The town of Knutsford, Cheshire is one of the region's most ancient settlements, and was recorded in the ancient English 'Doomsday Book' as 'Cunetesford' in 1086.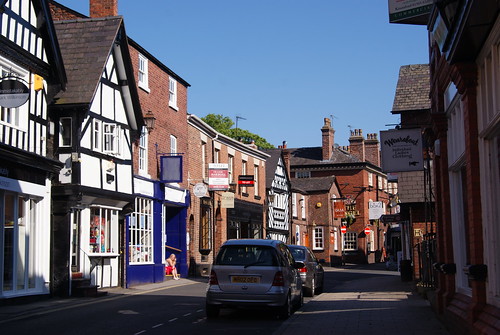 The architecture of Knutsford is one of its most popular attractions, with an eclectic mix of old English stone structure, Edwardian and Georgian homes, and Art Deco style buildings. Walking through its village is like taking a walk through time, as ancient stone structures sit next to modern buildings as well as shops built in the 18th and 19th Centuries.
Thousands of people visit Knutsford every year to enjoy its shopping, history and the nature on offer at Tatton Park. There are many reasons why you should join them, and we will cover just a few.
Boutique Shopping in the Heart of Cheshire
Knutsford's village has dozens of boutique stores offering art, fashion and furniture that you will struggle to find anywhere else.
The village is situated on two main streets that nestle on a hillside and are connected by numerous side streets, alleys and a bustling market. Though you will find many high street names along the shopping streets of Knutsford, you will also find unique shops offering products from around the world. Even Tesla have a presence in Knutsford, with one of the town's premier car dealerships offering Tesla vehicles for testing and sale.
The Manicured Gardens of Tatton Park
Bordering the village is Tatton Park, the home of Tatton Hall. Here you will find manicured gardens, which is also an annual venue for the Royal Horticultural Society's Flower Show.
The park is just over 2000 acres in size, and is home to a large number of deer. It is also a working farm. Its large lake is a popular water sport destination, though its peace and tranquillity make it more suited to canoeing and kayaking than jet skis and powerboats.
Tatton Park and Knutsford itself also had a part to play in World War Two, with the park used as a training ground for paratroopers in preparation for the Normandy landings, and the village square being the site of a famous speech by General George S. Patton shortly before D-Day.
Ancient British History Around Every Corner
The region of Cheshire is steeped in history, and Knutsford is no exception. As well as having a documented English history stretching back to William the Conqueror and 'the Doomsday Book', the area also has a connection to the Roman Empire.
Chester is only a short journey away, and the city was a centre of commerce and industry for the ancient empire. Surrounding Knutsford are a number of archaeological sites that offer a look deep into the past at the life of Roman era Britons. The historical attractions go forward in time to the Victorian era too. Close by to Knutsford are many cotton mills that were global centres for cotton production in the 18th and 19th century, a few of which operate today as tourist attractions.
Knutsford is a great place to spend a weekend away, or visit with children for longer. There is plenty to see and do in and around the town, and its great transport links to Manchester and London make it a great destination to consider. Nearby Manchester Airport even opens up the town to international visitors that want to experience an eclectic mix of history, shopping and nature.