Combermere Abbey, Cheshire
Originally a monastery established in 1130 and dedicated to the Virgin Mary, Combermere Abbey later became a country house estate complete with a clock tower. In 1538, there was a dissolution after many years of poor management at the Abbey, mounting debts, and the removal of Abbot's management. Sir George Cotton later acquired the properties and grounds. He then set about demolishing the church and converting a section of the former Abbey into a country house.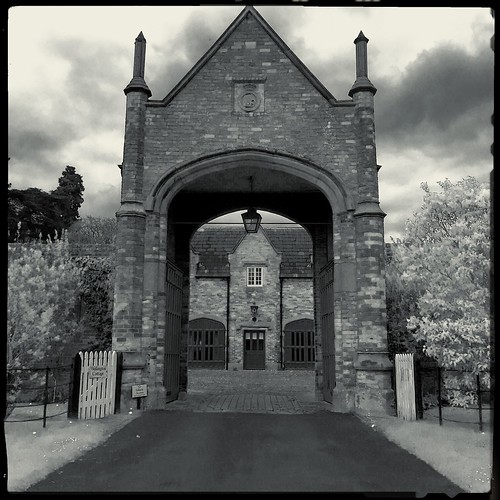 Modernisation Over the Centuries
During centuries of private ownership, Combermere Abbey was renovated and improved upon to both maintain its standing and ensure it didn't go into disrepair. Cotton's son, Sir Robert Cotton, organised significant alternations and beyond that, the Viscount Combermere between 1814 to 1821 applied major changes to the architecture to give it a more Gothic style.
Gothic-style architecture became popular from the 1740s and remained popular for over a century. For older buildings, this created a trend with new owners deciding to "Gothicise" aspects of the building to recreate it in a new image. Today, buildings would be protected as Grade I or perhaps Grade II to prevent such extensive architectural alternations from being allowed.
Graded Buildings
The Abbey is a protected Grade I listed building. It is also found on the register for Heritage at Risk due to a least one wing of the Abbey being considered structurally unsound and possibly subject to sudden collapse due to age and other factors. A protected section of the park is an impressive 990 acres (approximately 400 hectares) and is Grade II. A few other surrounding structures hold a Grade to indicate that they're protected too.
Highly Rated Accommodation
The Courtyard Cottages were created to provide a way for visitors to spend the night. A rousing success and highly rated on TripAdvisor, the accommodation provides a touch of luxury. Also, there's the ability to stretch your legs on the grounds or be challenged by the fruit tree maze. Take your pick. The photos speak for themselves on the travel site with curved interior facades and plasterwork along with wood panelling lending a classic feel. When looking for a special place to spend the night or for a weekend away, these cottages certainly offer something quite special.
Wedding Venue
Providing a place to stay for wedding guests at the Combermere Abbey is a major focus for the current owners. Holding the ceremony at a church and then moving onto the Abbey for everything that comes after is the goal here. The waterside location, extended grounds, and plush accommodation for wedding guests in the North Wing offer a perfect wedding spot for romantic couples and selected guests.
Corporate Meetings
Not to be outdone, there are arrangements available for companies looking for a private retreat, meeting spot, or team event location. The Abbey provides board meeting locations, private dining options for up to 150 corporate guests, and ample grounds to conduct team-building events too.
Combermere Abbey has gone through many reincarnations but the latest ones allow visitors to enjoy the surroundings, excellent accommodation, or to conduct a meeting with a delightful backdrop.