Highgrove House, Gloucestershire
Highgrove House has been under HRH Prince Charles' ownership for over 4 decades. It provides privacy and seclusion from the attention of the press and other onlookers with its sizable accommodation and walkable grounds. Presently occupied by Prince Charles and The Duchess of Cornwall, the home is one that saw in some of the formative years for Prince Harry and William too.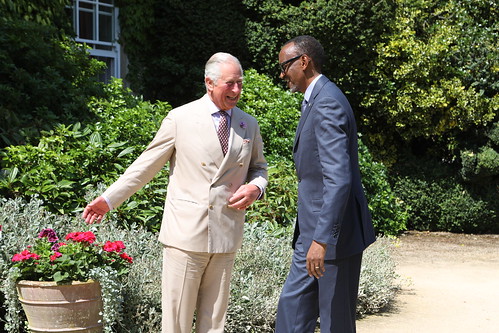 Ownership Hasn't Always Been with the Duchy of Cornwall
Highgrove House was purchased in 1980 by the Duchy of Cornwall, but it was originally built in 1784. It has since gone through several owners over the decades and centuries. Sitting on 347 acres, there's plenty of space to spread out and not feel restricted in any way. Several properties formally owned by the Duchy of Cornwall were sold to create the funds for the purchase. Following the purchase, it was extensively renovated.
Changed Inside and Out
The exterior was updated from a Georgian house to something more in keeping with an architectural style preferred by Prince Charles. The interiors were also stripped out and initially painted white before they were renovated and interior designed. Other repairs were completed to bring the home up to a more modern standard for the time. Additionally, in celebration of the marriage of Prince Charles to Princess Diana, the British Army installed a swimming pool as a wedding gift.
Organic Farming
Along with the purchase of Highgate House, was some farmland. This eventually became their Duchy Home Farm. In a pioneering move for 1985, the farm was turned entirely organic with the results of the effort eventually finding its way into Duchy Farm products sold at retail. Sustainable livestock and other newer farming approaches have been adopted.
Holiday Cottages
The Duchy of Cornwall Holiday cottages were created to provide luxury self-catering options for travellers. Available on the Isle of Scilly and in Cornwall, these offer dog-friendly places to stay. Places like Trendeal Barn in Ladock, Cornwall, which is only 8 miles from popular Truro, offers three bedrooms and cots for the newest members of the family too. Other barn conversions and new cottages in Lostwithiel also in Cornwall provide a blend of village hamlet combined with modern comfort thrown in too.
Gardens and Nursery
The gardens at Highgrove House are expansive and welcome many visitors each year. There is also an active Duchy of Cornwall Nursery that offers walking trails, a bumblebee garden, and more.
A café on the grounds provides some food and beverage options for when you want to take a break too.
The idea with the gardens and nursery is to take advantage of the natural surroundings, cultivate gardening at a sustainable level, and offer access to the public.
Clearly, while the estate was purchased over four decades ago, not a step has been missed in updating the home and making good use of the land and resources available. The farming, gardens, and cultivation all fit into the Duchy of Cornwall model of sustainability first initiated in the early 80s and is continued to this day.