Wollaton Hall and Gardens is a popular attraction in Nottingham, East Midlands. It is an Elizabethan Mansion and a massive deer park where the kids can roam and dogs can enjoy a spot of exercise (on the lead, of course!). Wollaton Hall also hosts special exhibitions from time to time, so it's worth checking what's currently on before you visit.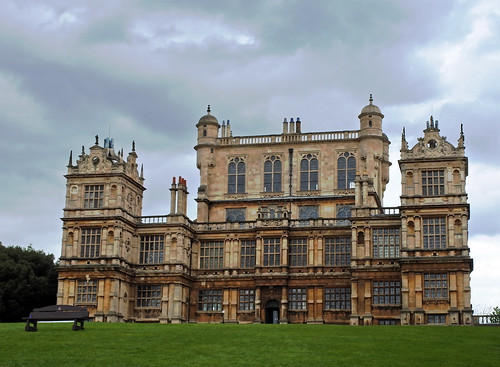 What To See at Wollaton Hall
The mansion is a Grade One listed building. Completed in 1588, many of the original rooms have been reconstructed so visitors can enjoy a glimpse of what life would have been like for Elizabethan ladies and gentlemen.
There is a natural history museum inside the hall, which the kids will love. Admire more than 750k fossils, eggs, shells, and stuffed creatures. The museum features dedicated sections for minerals, insects, birds, herbs, and Africa.
The deer garden covers 500 acres and has been home to deer since the 14th century. There are numerous habitats to explore, including woodland and wetland. Look out for red deer and fallow deer, but be mindful of the stags during rutting season, as they can be rather aggressive, as can hinds when calves are being born.
As well as deer, many bird species are living on and around the huge lake. If you are vigilant, you might spot ring necked parakeets, sparrowhawks, and jays.
The formal gardens at Wollaton Hall are a delight. These are located at the rear of the hall and feature statues, temples, and lush beds of flowers. The Victorian Camellia House is a huge cast-iron greenhouse dating back to 1823. It's the perfect place to shelter if it starts to rain.
Head over to the stables and check out the Botanical Garden; it's open set hours, so if you fancy buying some plants, check the opening hours before you leave home.
Fun for the Kids at Wollaton Hall
Kids will have a ball exploring the park and there are lots of family trails and treasure hunts to follow. You can collect maps from the shop. There are also two play areas, the main one close to the café and car park.
Older kids might like to try orienteering in the park. You can download a map from the Wollaton Hall website. Geocaching is another fun activity for kids of all ages, and there are more than 30 locations in the park.
Facilities
The hall and gardens are open all year round, with parking available (£5 all day). Visit the café for some refreshments and pick up souvenirs from the gift shop.
Things To Do in the Local Area
Nottingham city centre is only a short drive or tram ride from Wollaton Hall. There you'll find a wide selection of shops, restaurants, bars, and more. The National Justice Museum offers some insights into crime and punishment over the ages. Nottingham Castle has many centuries of history within its walls and there are hidden caves beneath the castle and city that date back to Anglo Saxon times.
If you'd like to go further afield, visit Newstead Abbey or venture into the nearby Peak District.