Woolsthorpe Manor in Woolsthorpe near Grantham in Lincolnshire is the birthplace of Isaac Newton.  This 17th-century manor house is where Newton made numerous discoveries, including his theory of gravity and the dispersion of light through the use of a prism.  In fact, you can visit the very orchard where the infamous apple fell, and stand in the very same room where the sunlight shone through the window inspiring his light experiments.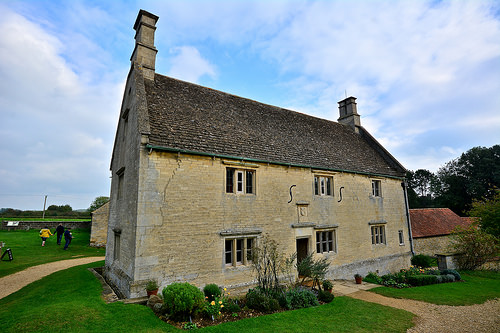 What to Do Here
Visiting the childhood home of Isaac Newton, you will be taken back in time to a period of civil war unrest and scientific discovery.  Each room is furnished to reflect this era and serves to immerse you in the mind of Newton and how he came to ponder and question his surroundings.
Newton's law of gravity was discovered when an apple fell from a now 400-year-old tree.  For the last 240 years, Newton's tree has been a popular attraction and is protected by a small barrier, but you can get close enough to take in the historical site.
Although a storm blew the tree down in 1820, evidence from sketches shows that it re-grew from the roots that remained.  Dendrochronology has confirmed that it is of the correct age and it is now listed as one of the 50 Great British Trees by the Tree Council.  Documenting your trip with a photo next to this iconic tree is a must when you visit Woolsthorpe Manor.
Extra Facilities
There is a free parking facility a few yards away from the Manor, and once you have completed your tour of the Manor and its orchard, there is a coffee shop serving tea and cakes for you to enjoy a well-earned rest.  You can also visit the gift shop situated in the Goat House.  For children, there are various activities to partake in, including a Science Centre, Light Workshop, quizzes and dressing up.
There are baby changing facilities provided and designated parking for wheelchair access.  While there are ramps included where possible, it is important to note that there are steps, narrow doorways, and loose gravel paths.  It would be a good idea to call ahead before booking for those with mobility impairment.
Prices and Opening Hours
As with many attractions, Woolsthorpe Manor operates both summer and winter opening hours.  From March until October, the opening hours are between 11 am and 5 pm, except Tuesdays when it is closed.  In the winter, you can visit between the hours of 11 am and 3 pm with last entry allowed at 2.30 pm.  The price for an adult ticket is £7.70 and a child ticket costs £3.85.  You can purchase a family ticket for £19.09 or a slightly discounted price of £6.80 for a group booking of 15 adults minimum.
How to Get There
Be sure not to confuse Woolsthorpe by Colsterworth with Woolsthorpe near Belvoir.  You will need to follow the brown signs on the A1 if you are arriving by car.  When you reach Melton, follow the B676 towards Colsterworth. Drive through Stainby and turn left onto Old Post Lane and then left onto Water Lane.