Northern Quarter, Manchester
Northern Quarter in Manchester is a go-to if you like all things quirky and hipster. Northern Quarter, known to most Mancunians as NQ, is a vibrant, eclectic and fun area of this big city, providing a whole host of things to do. One day isn't really enough to take in all the wonders of this remarkable area, so whether you chose to visit for a couple of days or you're visiting Manchester and are looking for something a little different, NQ is the place to go.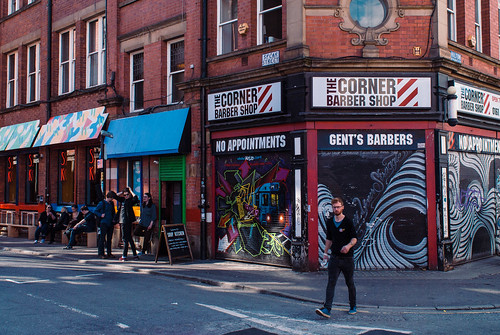 Grab a Coffee
NQ is home to some of the best coffee places in Manchester. If you're looking for a proper coffee to start the day right, you'll find plenty of places to choose from. North Tea Power is home to some of the finest craft coffees in the area.
Check Out the Independent Shops
Once you are suitably fuelled up with coffee and breakfast, you will be lost for hours with hundreds of independent shops around every corner. Affleck's is one of the main places to shop and visit, hosting a range of memorabilia, clothing and jewellery. If you are into all things alternative and love to stand out from the crowd, then the shops in NQ will leave you wanting more. There isn't just clothing available here though; for those interested in music, Piccadilly Records on Oldham Street holds a huge range of records from famous and local artists.
The Finest Eateries
For the foodies out there, you are in luck. NQ is also home to some of the best food places in the whole of Manchester, and with so much to choose from, you'll find it hard to pick just one restaurant. Whether you are into vegan food, smashed burgers or street food, NQ has it all. TNQ is one of the most popular eateries, providing exceptional gourmet food. This is the perfect place to take your partner or your best friend.
Bars and Pubs
A whole host of bars and clubs are at your fingertips in NQ, whether you are interested in live music or want to grab a quiet drink and play some board games with friends. Soup Kitchen is a popular destination for Mancunians and visitors alike, with a DJ and different bands each night, this is a true hipster hub. Twenty Twenty Two is open till 4am on the weekends and has a range of music, from R&B to garage to hip-hop. This bar also provides ping pong tables for all your beer pong needs.
Fun and Games
For the gamers, NQ has many gaming experiences to offer, one being escape rooms by Lucardo. Here you can choose to escape prison, choose a horror-themed escape, or enter the world of wizards. For the 80's and 90's kids, Hold Fast is home to Nintendo 64 games. Grab a cocktail or a pint and revisit your childhood beating your friends at Mario Kart.
NQ certainly has a lot to see and do. Don't forget to look out for some of the amazing street art when discovering this fantastic area of Manchester.