Gloucester is a large cathedral city in Gloucestershire. The city lies deep in the heart of the picturesque Cotswolds, not far from the border with South Wales and a short hop from the West Country. It is an interesting place with history dating back to Roman times. There was once a large port in Gloucester that was used to transport men and goods in Elizabethan times. Back in those days, magnificent tall ships were a common site and the city was a thriving commercial centre. Today the tall ships are long gone but the old docks and historic warehouses have been lovingly restored and transformed into a vibrant tourist area with shops, restaurants and bars.  The city also has plenty of modern attractions to suit visitors of all ages and makes a fantastic place to spend a weekend break, relaxing, enjoying a bit of culture, and doing some shopping.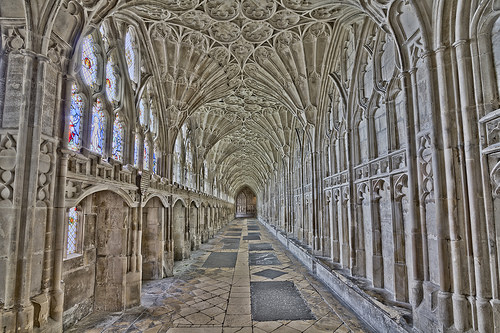 Things to See and Do
The main attraction in Gloucester is the dock area. Many of the city's key points of interest are located in the Docks, including the Gloucester Waterways Museum, where you can discover more about life on Gloucester's historic waterways over the last two hundred years. If history is your thing, take a guided walk around the Docks in the company of a knowledgeable guide or stop by the Soldiers of Gloucestershire Museum and learn more about one of the oldest regiments in the UK. Unsurprisingly given its long and varied history, Gloucester has a very haunted past. Ghost walks are a popular way to explore the spooky alleyways and ancient landmarks at night: ghost Tours begin at the Tourist Information Bureau every Wednesday and Thursday evening. For smaller visitors, the Beatrix Potter shop and museum is a must-see attraction. And if you fancy doing some shopping, Gloucester has a wide selection of shops and designer boutiques to please every pocket. However, don't forget to visit the Gloucester Farmer's Market. It takes place every Friday and is a great opportunity to pick up some local delicacies, in particular cheese.
Places to Visit
Gloucester Cathedral dominates the town centre and is a wonderful example of a medieval building. Royalty are buried beneath its hallowed stones and there are over 1,000 years of history visible in the many different architectural styles throughout the building. If you love art, make sure you visit Nature in Art at Wallsworth Hall in Twigworth. There are hundreds of works of art from over 600 artists, spanning more than 1,500 years, including masterpieces by Flemish artists, contemporary glass and bronze sculptures. Other interesting places to visit include Blackfriars on Ladybellegate Street, a Franciscan Friary dating back to 1239, and Hillfield Gardens, an attractive park featuring mature redwood trees and the chancel of a 12th Century leper chapel. Beyond the city walls, there are plenty of other interesting places to see and sites to enjoy. Highnam Court Gardens is only a few miles from Gloucester. The house dates back to the 1600s and the gardens have been lovingly restored in recent years after decades of neglect. And don't forget to take a trip into the beautiful Forest of Dean or visit historic Cheltenham, which is only 9 miles from Gloucester.