Withernsea is a typical Yorkshire seaside town with miles of golden sand, a traditional promenade, and some seriously tasty fish & chip restaurants. The waters are clean and the beaches have won awards. On a fine day, Withernsea is glorious. You can see for miles across the North Sea as you sit on the promenade, eating fish & chips and listening to the gulls cry high above. Here are the best bits of Withernsea if you are planning a trip to the area.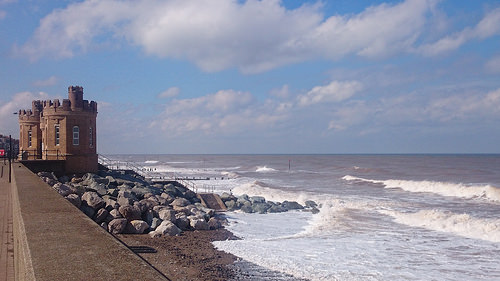 The biggest landmark in Withernsea is the lighthouse. It is one of very few inland lighthouses, which makes it well worth a visit. This impressive structure towers 38 metres over the town. Inside, there is an interesting collection of RNLI exhibits, which tells you more about local maritime history related to the RNLI and HM Coastguard. There are also lots of photographs of old Withernsea, so you can see how the town looked in times gone by. If you are feeling energetic, climb to the top of the lighthouse – there are only 144 steps! On a clear a day, you will be able to see as far as the Humber Bridge.
Award-Winning Beaches at Withernsea
The beaches at Withernsea are famous. There are miles of golden sand along this stretch of coastline. The main beach has been awarded a Blue Flag in recognition of its superior levels of cleanliness, so it's perfect for young children to play on. There are traditional amusement arcades all along the sea front promenade. The old Victorian Pier is no longer there, sadly, after it was badly damaged by a succession of severe winter storms and fishing vessels. There are also plenty of cafes, gift shops and seafood restaurants to keep you fed and entertained.
Things to do in Withernsea
Withernsea has a good selection of shops. The main shopping area is on Queen Street and if you visit on market day, you can browse a wide selection of local produce.
If you are feeling energetic, you can stroll along the beach all the way to the Spurn Peninsula. The peninsular is only 50 metres wide now because of coastal erosion, so visit it now before it disappears completely.
Places to Visit near Withernsea
Spurn National Nature Reserve
Spurn National Nature Reserve is just up the coast from Spurn Point. This is an important area of scientific interest. There are three miles of shingle, which is home to plants, seals, migratory birds and butterflies. It is a unique eco system and a delight for birdwatching.
RAF Holmpton lies just on the edge of town. It's a massive nuclear bunker, built in the 1950s and now open to visitors. You can take a guided tour and imagine what it would have been like if the Cold War had ended in nuclear Armageddon.
Fort Paull is another cultural highlight for visitors to Withernsea. This Napoleonic fort is 500-years old and perfect for a quick history lesson. If you want to head further afield, take a drive on to the gorgeous North Yorkshire Moors for a fine day out.