On the coast of the River Mersey, Warrington is a pleasant town located in Cheshire, in between Liverpool and Manchester. Due to its position on the river, Warrington has always been a bustling, busy town ever since its foundation in the Roman Era. The town has seen its fair share of interesting history; you can see dents from civil war cannons on the walls of the local parish church, and Oliver Cromwell is reported to have stayed in or near the town centre during the historic war. Today, Warrington is a busy modern town which boasts a range of attractions, sites, and things to do.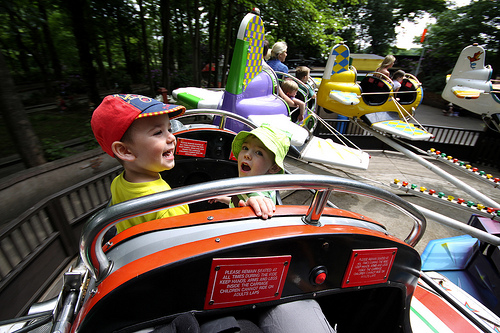 Shopping in Warrington
With the Golden Square shopping centre, Warrington is an ideal location for shopaholics with a huge variety of high street shops, boutiques and locally run shops where both locals and visitors can stock up on items such as clothes, food, gifts and more. At a convenient location in the town centre, Warrington Market is one of the biggest markets in the North West of England with over two hundred stalls where shoppers can browse through a whole range of items, including clothing, fresh food, and handmade craft items made by local artists.
Things to Do
If you're planning to visit Warrington, you'll definitely never be short of things to do with many different attractions and activities available for all the family. If you're looking for family fun, LA Bowl is a great location to have a fun bowling game with friends or family, and also offers a karaoke bar and dodgems that will keep everybody happy. Located close to the town is also Gulliver's World, a theme park boasting over ninety rides and experiences suitable for all ages that is a great destination for a family day out. If you're hoping to visit some museums during your stay, the Warrington Museum and Art Gallery has over 200,000 objects and art on display, along with an interactive Time Tunnel which is perfect for kids.
Where to Stay and Dining
If you're planning to stop over in Warrington, you will certainly have no problems when it comes to finding a place to stay with a number of renowned hotels in the town centre. Choose from Premier Inn or Best Western hotels, along with Victoria Lodge and Park Royal Hotel which are also very popular. When it comes to accommodation types, Warrington has both chain and individual hotel options with something available for all budgets. For dining, there is a wide range of eateries in the area with something to suit everybody's taste in cuisine. From chain restaurants such as ASK Italian or Nandos to The Grill on the Square or The Cotton Mill, foodies have a great variety of different restaurants, cafes, bars and grills to choose from when visiting Warrington.
With something to do for all the family, plenty of shopping opportunities and great places to stay and eat, Warrington is an ideal destination for families, couples, and groups of friends alike who are looking for an interesting break.