Are you a fan of the Harry Potter films? Do you wish that you could immerse yourself in the world of Hogwarts, Platform 9 & ¾ and stock up on all of the essential items that every wizard needs? Well in that case you need to take a trip to Diagon Alley. That quaint, old world cobbled street where all of the small old fashioned shops are located that sell everything from magical wands through to dusty old magic books.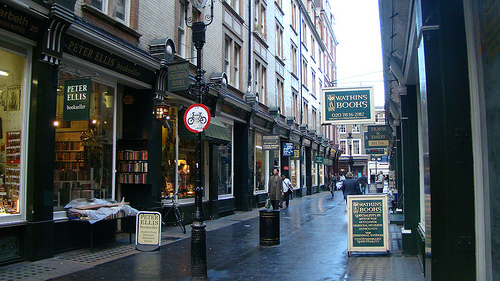 In the films, access to Diagon Alley was behind a rather dingy looking pub known as the Leaky Cauldron, totally hidden from the real world, the world filled with muggles, the people who have no magic in their lives. Diagon Alley is the centre of trade in the wizarding world and no matter how obscure, rare or repulsive the spell ingredient you require, it can be found here. Of course, Diagon Alley is not strictly real, it exists only in our imaginations and on the silver screen, but the street has to be based on somewhere real right? Well it is, and that place is Cecil Court in London.
The Reality
In reality Cecil Court really is a unique place. It has the old world charm of Diagon Alley despite the shops fronts not being quite so dark, or the traders quite so mysterious, or the wares quite so magical. Here you will find that the shop fronts have remained unchanged for more than a hundred years, and just as in Diagon Alley the street is filled with traditional hanging signs that tell the eager shoppers which stores they need to enter in order to find what they desire.
This is still very much the smart, busy Victorian thoroughfare that it always was and you could be forgiven for forgetting that you are in fact in the heart of a very modern city as you step out of time and enter the shops in Cecil Court. The street leads from Charing Cross Road to St Martin's Lane, it is totally pedestrianised and in this way somehow protected from the encroachment of the modern world.
What Is Here?
Just as Diagon Alley was the place that Harry, Ron and Hermione went to purchase all of their magic books, so too Cecil Court is the place to go for all manner of printer materials. Here you will find sellers who specialise in rare or antique books. You can find all manner of maps here too, plus printed art works; even unusual stamps and bank notes are available here. Whether you are looking to buy a poster from your favourite theatre show, want to get your hands on a sixteenth century manuscript or find a book to read to your kids at bedtime, it is all here. An added bonus is that unlike many modern stores where the staff are faceless and you are left to find everything yourself, there is always someone here in Cecil Court that can point you in the right direction for what you need.