The Deep is an extraordinary place full of adventure and mystery for all the family. You will get to see many sea creatures and plants from all over the world that you may not otherwise see in your lifetime.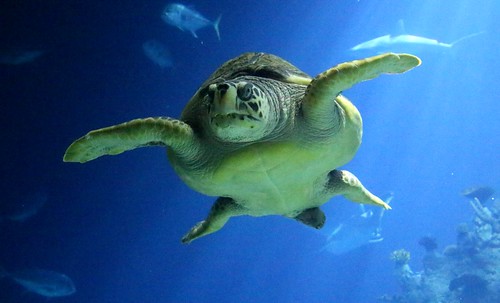 How You Will Spend Your Day
Start your day with the Awakening Seas expedition, where you will learn about how the sea has progressed and changed in the last four billion years. Hear about all the various creatures that have existed throughout these times and see and imagine what they would have looked like. Look at the fossils and the shark's teeth that have been preserved and see some amazing creatures from the past.
Then pop to the tropical fish aquarium, full of vibrant bright coloured and interesting fish and coral. It truly is a sight to behold. There really are more colours and unusual shapes of fish than you could ever have imagined. Learn and understand why they are so bright and colourful along with the coral, which is also a living being.
In the two million litres of water, you get to see what lies and lurks at the bottom of the ocean. Not surprisingly, you will see rays, turtles, and many sharks here. Discover facts about the sea and how you can dive into it safely. Also, hear about the pressure that the sea can put on you and how it can be a dangerous place when you do not behave appropriately.
Visit the bug exhibit where you will see lots of exciting and colourful bugs from all over the world. From tarantulas to centipedes, there is something of interest here for everyone.
Make a Full Day of It
Then you can pop off to the Amazon where you will see many different and unusual varieties of catfish. Find out about the three thousand different kinds of fish that live in this habitat and understand that they have no need to be bright or colourful and therefore, they are not!
Go and see how the penguins behave in their own habitat without having to succumb to the incredibly low temperatures that they are used to. Watching a group of penguins interact with each other and waddle around is truly a sight to behold. Make a day of it and visit the shops, cafe, and the Deep-artment Store. Spend some cash to save the animals and species that are unable to save themselves, but who add interest and vibrance to our lives.
Why You Must Visit The Deep
The Deep is a non-profit organisation purely for the conservation of endangered species. The Deep and your custom allows them to save and breed many endangered animals that would disappear without this crucial aid, from frogs to sharks to penguins – take your pick!
If your children have an interest in animals and wildlife, they may become the next botanists or marine biologists who will fight to save the many species we have in our world. Fuel their thirst for learning at The Deep!