Plymouth stands at the gateway between Devon and Cornwall, two of the UK's most visited counties. Its biggest historical influence is that it was the city the first pilgrims to move to America set off from on the Mayflower, and this makes it a popular place to visit for Americans. It is also popular with other tourists, however, as a lively city with plenty to offer and a lot of interesting things to see and do. Here, we take a look at why Plymouth is such a great English city to go and spend some time in: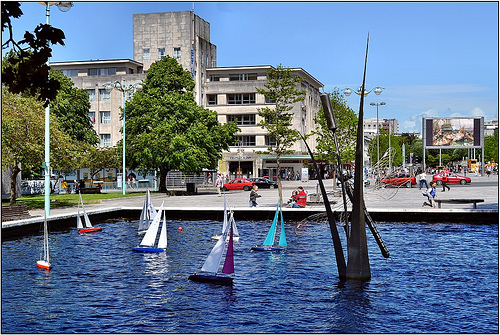 History
Plymouth has a significant place in history as being where the Mayflower set off from, but it is also steeped in other naval history. There are museums all over the city such as the Mayflower Museum, The Merchant House and the Dartmoor Prison Museum that offer interesting insights into the past and allow you to get a glimpse of unique artefacts that relate to the city and its past.
Scenery and Beaches
Being on the Devon coast, as you might expect there are some really good beaches within a stone's throw of Plymouth city centre. With beautiful cliffs and shores, and beaches like Bovisand, Bantham and Beesands all nearby, if you are looking to relax on the beach you have plenty of choices when you base your stay in Plymouth. There are also plenty of opportunities for watersports in the summer season, including snorkelling, water skiing, kayaking and gig rowing, which is a popular watersport in Devon and Cornwall that involves large sea going rowing boats with teams of rowers each armed with one large oar.
If you are not visiting in summer, the beaches and cliffs still make for spectacular walks and photo opportunities, and in winter you are also permitted to take your dogs on the beaches.
Shopping and Leisure
Plymouth is the main city the people of Cornwall and Devon go to when they want to seriously shop, and so you will find a great range of places to buy just about anything here. The modern city centre features all of the most popular UK high street stores, but also has some more interesting independent boutiques, gift shops and artisanal shops where you can buy locally produced things. It is a really nice and interesting shopping area to explore, whether you want familiar brands or something out of the ordinary.
When it comes to other forms of leisure, Plymouth will not leave you bored. There is a fantastic marine aquarium that makes for a good family day out even if the weather is poor, as well as numerous sports facilities and a great pool. There is also a multiplex cinema, and plenty of different city tours to keep you amused.
Where to Stay
Plymouth relies a lot on tourism as a city, so there are lots of places to stay and visitors are always made to feel welcome. Rooms in hotels of all levels are available year round, though as a coastal destination, expect to pay more or book further in advance to get the place you want if you are visiting in the peak summer period.