Penzance is wonderfully warm and magically sub-tropical. The town is blessed with amazing beaches and lots of swaying palm trees and lush vegetation. In many ways, Penzance is more authentic than other tourist towns in Cornwall.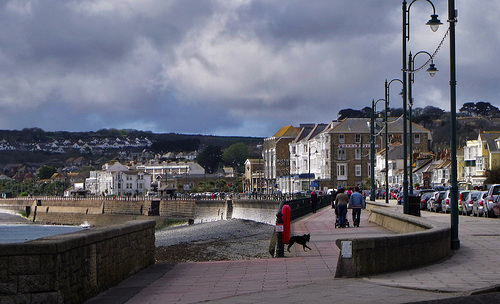 Take a leisurely wander through Penzance's narrow streets filled with New Age shops, cafes and art galleries and you will fall in love with its salty charm. Chapel Street has lots of quirky antique shops, pubs and 18th century houses. Look carefully and you will spot the Admiral Benbow Inn, made famous by the classic novel, Treasure Island.
Stroll along the Promenade
The Victorian promenade along the sea front hails back to another century, when Victorian families came for their annual summer holiday by the sea. You can walk along the promenade, buy fish and chips, and admire St Michael's Mount across the bay.
The old harbour is the hub of much of the town's activities. Book a boat ride, enjoy the salty sea breeze as it whips up the waves, or take a seat on the harbour front and let the sea birds serenade you. If the tide is out, you can walk across the granite causeway to St Michael's Mount, but if the tide is in, take a boat ride instead. The nearby harbour at Newlyn is a lot busier, as it is home to the largest fishing fleet in Cornwall.
St Michael's Mount
St Michael's Mount is cloaked in myth and legend. The medieval castle is an island fortress steeped in a thousand years of fascinating history. This is a place where modern life has failed to make much of a dent. You can explore the castle, climb into the turrets, enjoy fresh food and enjoy the peaceful tranquillity of the gardens. It is a truly magical place.
Penzance Museums and Galleries
If you want an introduction to the Penzance art scene, pay a visit to the Penlee House Museum. It is home to a collection of paintings from the Newlyn School, plus lots of other interesting artefacts and antiques.
The Exchange Gallery has a huge exhibition space filled with contemporary work by artists of national and international renown. The Newlyn Gallery nearby is also a major hub for contemporary art in Cornwall.
The Telegraph Museum at Porthcurno near Penzance will tell you more about Britain's secretive global communication networks during WW2. The museum has recently undergone a facelift and there are now some fantastic new exhibitions and visitor experiences.
The Egyptian House, originally built as a geological museum, is a quirky cross between an Egyptian sarcophagus and a Georgian town house. It's an interesting and rather arresting sight on Chapel Street.
Penzance Beaches
There are lots of great reasons to visit Penzance, but the beaches top most people's list. Head to any of the local beaches and sunbathe, swim or surf. The best known beaches in this part of Cornwall are Perranuthnoe, Kenneggey Sands, Lamorna Cove and Praa Sands.
If you want to explore the local area on foot, Penzance is on the South West Coast path, so you can head down to St Ives along this gloriously beautiful coastal footpath.