London's Unique and Specialist Shops
People come into London to go shopping for a variety of reasons.  They love the big name stores like Harrods, Harvey Nichols and Hamley's and they love the diversity of some of the more unusual and ethnic food shops, where you can pick up just about every foodstuff imaginable.  But there are some stores here that you simply won't find anywhere else.  These are the unique specialist shops that simple don't exist anywhere else outside of London; they offer a taste of the old in very modern surroundings and in some cases give you a glimpse of a different way of life.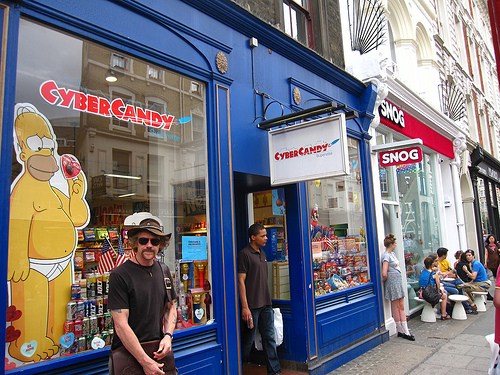 Cornelissen & Son
This unique art store has been building on its fine reputation as a purveyor of all things art related since 1855.  If it wasn't for some of the modern art equipment that you find inside you could believe for a moment that you had stepped back in time, as very little about the interior of the store has changed over the years. Even if you are not an artist it is worth popping in for some coloured pencils just for the experience of being inside the store.
Cybercandy
For the ultimate sweet tooth, there is more confectionary housed in this one store than you could possibly attempt to eat. Aside from the regular sweet treats that everyone loves you will also find some rare, limited edition edibles that have been shipped in from around the globe. There are four Cybercandy stores in London, located in Islington, Shoreditch, Camden town and Covent Garden.
Junky Styling
Every item that you find in the shop has been made from second hand clothes that have been totally deconstructed and transformed into something new and amazing. The items that you find here are totally unique, one of a kind items that you cannot find anywhere else. Plus you can also turn up with some of your own old clothing to give it a funky and on trend makeover.
The Moomin Shop
Located in Covent Garden the Moomin shop is exactly that, a shop filled to the brim with all things Moomin. Here you will find Moomin themed toys and books and all different kinds of Moomim merchandise. There are also a few rare and unique Moomin items here too for the avid collector. But for those who really love the Moomintroll there are a number of limited edition artworks from the original cartoon series for sale.
VX (Vee-Cross) – Vegan Boutique
There are not that many shops that cater entirely for the vegan, but this is one of them. Step through the doors and you will find yourself in a vegan paradise. This is a department store with a difference as you can buy everything here from 100% vegan foot wear to vegan friendly milkshakes that are available in the lounge downstairs. Ssh – but this is also where the Secret Society of Vegans have their headquarters, so you will also be able to purchase some of their SSoV clothing and merchandise.