If you're ready to get away from the dreary interior climate of England in the winter or ready to beat the heat during the summer months, then a trip to the temperate coastal climes of the country is right up your alley. With a unique coastal culture that combines familiar aspects of their own home life with unique twists in food, maritime enjoyment and much more, Newquay is a perfect example of one of these places.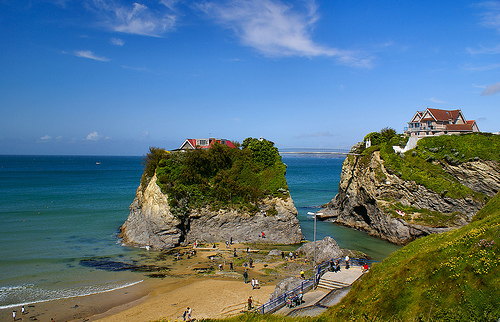 What to Visit
There are a number of prime attractions to visit while staying in Newquay; so many in fact that you'll have a hard time deciding where to go and what to skip. We highly recommend checking out the Blue Reef Aquarium, which showcases both a stunning array of local aquatic life and hundreds of unique specimens from all over the globe. Holywell Bay Fun Park is a great choice for families with children; from F1 go karts to super squirty blaster boats, the kids and parents alike can partake in a variety of family activities (and entry to the park is free). For those seeking a more cultured take on things, the Lane Theatre offers more than 130 seats for witnessing a variety of superbly-produced performances throughout the year. Finally, Wheal Martyn offers a variety of fun outdoor activities for the nature lover, including nature trails, woodland parks and the country's only china clay heritage centre.
Where to Stay
You no doubt will want to be sure to secure the best lodging and accommodations for your stay in the town, and we understand how important this is to any trip. We recommend checking out either a holiday park or a bed and breakfast for your stay, with three particular recommendations.
The first is the Trenance Holiday Park, which is only fifteen minutes by foot away from Newquay's town centre. With indoor tennis courts, skate parks, cafes, golf courses, riding stables and a toddler play area, you could very well never leave the premises and have plenty of fun on-site!
Parkdean-Holywell Bay Holiday Park is another consideration, and has been voted the Best UK Park Operator by British Travel Awards on three separate occasions. From heated outdoor pools and entertainment bars to multi-sports courts and surf school, you'll have a great time while staying at this resort.
Finally, Woodpecker Cottage is a quaint getaway that can sleep up to six people in its two bedrooms. Originally part of a farming complex that was converted a half-century ago, it now offers beautiful views of the countryside and is quite close to two different beaches in the area (Whipsiderry and Porth).
Where to Eat
What vacation would be complete without sampling all of the local varieties of cuisine?
Topping our list is the Bowgie Inn Pub, which is close to the coastal areas of Porth. Featuring traditional English cuisine and sourcing only Cornwall-grown produce, you'll feel good about supporting this local establishment and love the taste of all they have to offer. The locally-produced ales are a fantastic addition to any meal, too.
A restaurant with a theme, Captain Jack's features a medieval ambiance complete with its styling of furniture, décor (armour, swords, and stocks) and maidens who serve food. Platters of delicious, hot food coupled with wisely-selected ales will remind you why you decided to visit Newquay in the first place.