National Marine Aquarium, Plymouth
The National Marine Aquarium is the UK's biggest aquarium. It is located in Britain's ocean city, Plymouth, and is run by a charity called the Ocean Conservation Trust. With lots of things for visitors to experience and explore, it's the perfect location for children and adults alike. Keep reading below to find out all about why you should visit the National Marine Aquarium.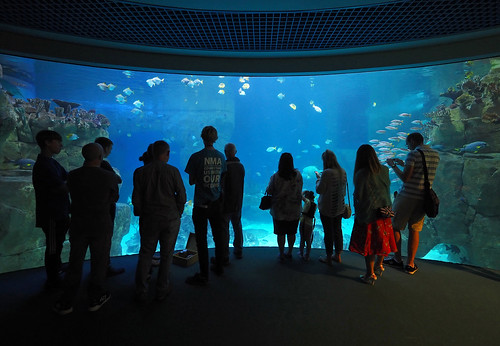 Why Visit the National Marine Aquarium?
The National Marine Aquarium has over 5000 awe-inspiring exhibits and ocean animals for you to learn about and explore. Your visit to this aquarium will take you on a journey into different parts of the world's ocean, from the local waters of Plymouth beach all the way to the tropical seas of the Great Barrier Reef. Some of the different areas you'll be able to explore include:
Plymouth Sound – this exhibit showcases some of the colourful and stunning animals found in Plymouth.
Marine Protected Area – this is an educational and informational exhibit
Seagrass Shores – this area showcases a range of animals, including stalked jellyfish, seahorses and rare seaweed.
Eddystone Reef – this exhibit has the largest single viewing panel in the UK.
Ocean Drifters – in this exhibit you can learn about the lives of jellyfish and other similar creatures.
Atlantic Ocean – this is home to a range of animals, including Sand Tiger Sharks and Angelfish.
Biozone – this is home to fish from warmer waters.
Seagrass Laboratory – located in this area is a ground-breaking seagrass lab.
Great Barrier Reef – this Australian inspired, 650,000 litre reef showcases some of the best fish found in the ocean.
At the National Marine Aquarium, visitors are able to directly connect with the ocean. There are lots of things for people of all ages to enjoy, experience and explore, meaning you'll have an unforgettable trip.
The Facilities
The National Marine Aquarium has a number of facilities on site including a gift shop where you can buy souvenirs, gifts or toys, a snack shack/café/picnic area where you can stop for a rest and a bite to eat, and a soft play area (called Loola Land) where the kids can run around and have fun with one another.
Time to Relax
Being located in the city of Plymouth (otherwise known as Britain's Ocean City) and facing the UK's first ever National Marine Park, the garden at the National Marine Aquarium has some outstanding views of the Ocean. When you're ready for a break after a look around the aquarium, why not put your feet up in the garden and watch the boats coming in and out of the harbour? You may even be able to spot the odd seal or two if you look closely.
The area is completely closed off, meaning you can relax in the knowledge that your children are safe. It's the perfect place to let your children run off a bit of steam before going back into the aquarium for another look around.
The Complimentary Pass
If you pay a visit to the National Marine Aquarium, you will be offered a free return Annual Pass when you arrive. This allows you to return for a free visit on another occasion.
If you're looking for an amazing place to visit then the National Marine Aquarium is a great choice for you. It was founded in May 1988 with the charitable aims of education, research and conservation and is situated next to the fish market in the beautiful city of Plymouth, England. Why not pay them a visit today?