For a fun-packed family friendly day out, Gwithian is a great choice of location. A coastal village situated in the west of Cornwall, England, Gwithian is home to one of Cornwall's larger beaches and Gwithian Towans, which covers the site of a Bronze Age farm that has been excavated. Whether you're looking to relax on the beach, learn to surf, or explore the history of the area, Gwithian has a wide range of tourist attractions that make it a great place in Britain to visit for both adults and children alike. If you're thinking of visiting Gwithian, read on to find out more about things to do.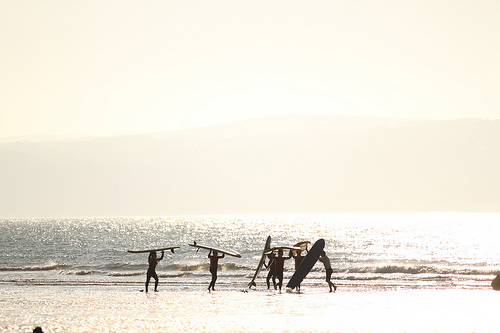 Learn to Surf at St. Ives Bay
Located less than a mile away from the centre of Gwithian, St. Ives bay is popular with surfers, windsurfers and kitesurfers. When the weather is nice, it's a great location to relax and watch the surfers, and if you're up for an adventure there are a number of surfing schools where you can even learn how to surf yourself. You could even make it a family day out if you have children who're up for learning how to surf, although it's worth noting that this is an activity for older kids and the surfing schools will have a minimum age limit, although this can vary between different schools so it's worth checking their websites before you decide which surfing school to go with.
St. Gothian Sands Nature Reserve
St. Gothian Sands Nature Reserve is situated to the rear of Gwithian beach at the east end of St. Ives Bay, and provides a safe haven for endangered wildlife and breeding birds. The area was once used to quarry sand for commercial use, and has since been converted into a nature reserve in order to protect the local wildlife and attract more tourism to the area. If you'd like to explore the nature and wildlife in Gwithian, there are also other nature reserves nearby such as the Upton Towans Nature Reserve and other bird reserves which make great destinations for a family day out.
Peter's Point
If you're wanting to get up to some high ground and see the spectacular views or even watch the surfers, Peter's Point is a great location. Situated just behind the cliffs that rise above Gwithian beach, Peter's Point is on the edge of the sand dunes area known as Gwithian Towans. Although there's a RNLI lifeguard centre taking up some of the view, it's still an excellent place to visit if you'd like to relax and take in your surroundings, and it's great for picnics. Gwithian beach car park is located on the cliffs, so it's easy to get to by car, and there's a flight of steps leading down to the beach from Peter's Point.
Have you visited Gwithian before? Which are your favourite attractions? If you'd like to recommend any things to do for those visiting Gwithian for the first time, we'd love to hear from you in the comments below.