Looking for a great British day out? Then look no further than Formby, a seaside town located in Merseyside. Formby beach is an ideal location for family days out, as there is a large car park, picnic areas, and it is a great area for lovely walks with waymarked paths to the beach, woods and sand dunes. If you're looking for a great British beach day out – or even a short break – Formby is a great destination with something to suit all the family. Read on to discover why you and your family will love visiting Formby.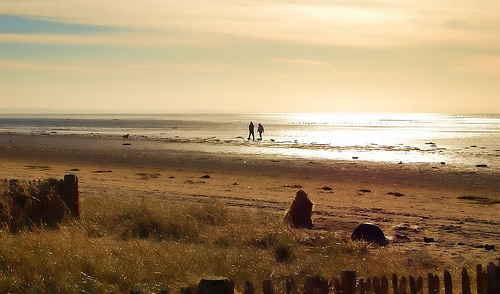 Excellent Views at Formby Beach
Formby beach itself is beautiful, and the high sand dunes offer picturesque views of the Irish Sea and you may even be able to see the Cumbrian hills and mountains on a clear day. The coast itself at Formby beach is undergoing erosion, and the tides can often reveal interesting views of prehistoric mud layers that may even contain animal and even human footprints, which can be really exciting if you're taking children along who like to explore. The beach has picnic areas and is clean and well looked after, making it a perfect option for a relaxing family day out – just don't forget the bucket and spade!
Formby Nature Reserve
If you're planning to take the kids on a day out where they can explore the wonders of nature, Formby Nature Reserve is an excellent choice of destination.  The woods at Formby Nature Reserve are just one of seventeen red squirrel reserves in the north of England, with the large number of conifer trees being the main attraction for the red squirrels who feed off the pine cones. The stunning dunes also provide a home for a number of further endangered species such as the Northern Dune Tiger Beetle and the Natterjack Toad. It may be worth checking the nature reserve's website as they run family friendly activities.
China Butterfly Craft Centre
For a brilliant and unusual family day out, the China Butterfly Craft Centre in Formby is an attraction that's suitable for both adults and kids and is a great way to have some fun and get in touch with your artistic side. It's the ideal place to relax and try your hand at a range of new crafts with over fifteen different crafts to choose from including painting, pottery, mosaics, card making, jewellery making, bag decorating and glass decorating. Some crafts will need to be pre booked whilst others such as painting do not require an appointment, so it's best to check their website before you decide what you'd like to do. Not only is it a great way to spend time having fun together as a family, you'll also be able to take home a fun handmade souvenir of your time in Formby.
Have you visited Formby? Which attractions would you recommend for others thinking of visiting Formby or Formby Beach for the first time? We'd love to hear from you in the comments.