Bognor Regis is a traditional seaside resort on the South Coast. It is famous for its beaches and its Butlin's Holiday Resort, but whether you come for the sand or the 'hi-de-hi' you can look forward to plenty of sunshine and year round entertainment.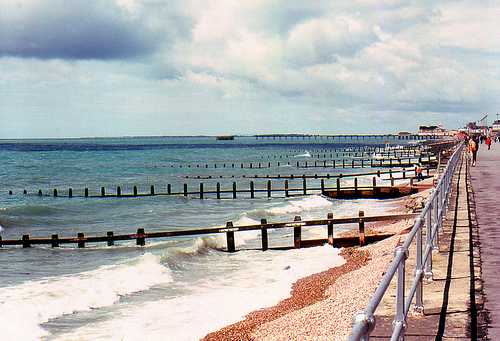 Glorious Sunshine in Bognor Regis
Great weather keeps visitors coming back to Bognor Regis. The town is sheltered by the Isle of Wight and The South Downs, so it enjoys more sunshine than all other towns in the UK. This makes the beach at Bognor the perfect destination for sun seekers and families with young children. You can sunbathe, play volleyball on the sand, or enjoy water sports such as wind surfing or sailing.
Award Winning Bognor Beaches
Bognor's beaches are of exceptionally high quality. The sea in this part of the coast is very clean and the beaches have won many awards for their high standard of cleanliness. You can bring your children to Bognor Regis and not have to worry about their health and safety when they play in the sand and paddle in the sea.
The Beach on the Beach is a special area of sand for younger kids. The sand has been washed and is therefore guaranteed to be free from any contaminants. Toddlers and babies can build sandcastles and have a thoroughly good time. This special area is accessible from the promenade.
Bognor Regis has everything you would expect from a traditional seaside town, including seafront amusement arcades and rides, bars, cafes and restaurants. There are also plenty of traditional pubs along the seafront, many of them located in old, historic buildings.
Things to Do in Bognor Regis
Learn more about Bognor Regis's historical past by visiting the Bognor Regis Museum. Admission is free. The town also has several parks if you have had enough of lying on a beach.
Hotham Park, named after Sir Richard Hotham, is a short walk from the town centre. It is one of the most famous green spaces in this part of the world, and after undergoing a huge restoration in 2006, it now features lots of unusual trees and plants, plus tropical gardens and Mediterranean gardens. Check out the crazy golf and putting green, the miniature railway, boating lake and café.
Marine Park Gardens is another Green Flag park located on the seafront near Bognor Regis. The park is popular with families and dog walkers and contains a café, ornamental fountain and children's' play area.
The Alexandria Theatre at the Regis Centre is where much of the live entertainment takes place in Bognor Regis. There is a large auditorium for cinema and theatre, plus a smaller studio theatre for more intimate productions. Music fans will also be thrilled to learn that Bognor Regis plays host to the annual ROX music festival.
Shopping in Bognor Regis
The town has a good selection of shops, arcades and souvenir kiosks. You can also pick up bargains from the open air market, which is held at regular intervals in the town square.
Bognor is a great place to visit, so book your trip and take advantage of the fine weather and wonderful beaches.