The January Sales in London
Die hard shopaholic or not, there is something about the January sales that gets your blood pumping and sees you heading off down to the stores that you wouldn't ordinarily buy from in order to grab yourself a once in a lifetime bargain. During the sales if you are lucky you can find designer items at High Street prices and bespoke one off creations for the price of a ready to wear outfit. No matter what Christmas brought us in the way of gifts, whether we need anything or not, as a nation we head to the sales with a desire to find the ultimate bargain. For those who are happily termed shopaholics the sales are a time of pleasure overload when excessive spending results in more shopping bags that you can carry. Whatever else the sales might be, they are also fun.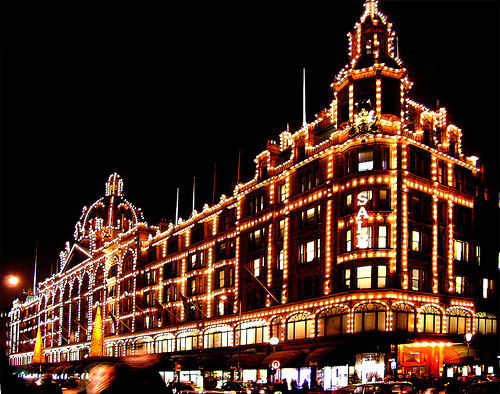 Be Sensible
As a novice entering the sales there are a few things that you need to be aware of. You may feel that shopping in designer outlets and big name stores in the centre of one of the most vibrant cities in the world requires you to look the part. Sorry to say but the sales are no place for high heeled shoes and little designer handbags, unless of course they are on your shopping list. A pair of flat, comfortable shoes is advisable to allow you to run around much faster than those ladies who refused to relinquish their heels. Make sure that you are in the right mindset when you set out, have the attitude to win and you will be able to navigate your way around all of the other bargain hunters that will be standing between you are your chosen items.  Watch out for older ladies with their wheeled shopping bags, umbrellas and impossibly sharp elbows and grab that bargain.
The Sales
Although they are termed the January Sales many stores start their sales as soon after Christmas as they can. If you want to grab the best deals and the best prices you had better head out early and be there when the doors open. If you can't make it to the very start of the sales you could always try holding back until the end as many retailers will offer further reductions in the last few days of the sale. Plan where you are going to be shopping and what you are going to be looking for and be prepared to shop like you have never shopped before. The big London department stores are the places to head for, you could pick up a designer outfit, some cut price electrical items or some amazing beauty products for a fraction of their full selling price.
Department Stores
Harrods, Harvey Nichols, Liberty and Selfridges all start their sales on 26th December.
Fortnum & Mason, John Lewis and Peter Jones all start their sales on 27th December.
Shopping Centres
The Westfield Shopping Centre and Westfield Stratford City both start their sales on 26th December.