Barnsley's cultural heritage is firmly rooted in the industrial age, with much of the local industry centred on coal mining and glass making. The coal mining industry has long since disappeared and for many years, the once majestic town of Barnsley slumped into a steep decline. But like many proud Yorkshire mining towns, Barnsley picked up the pieces and its fortunes have much improved in the last decade.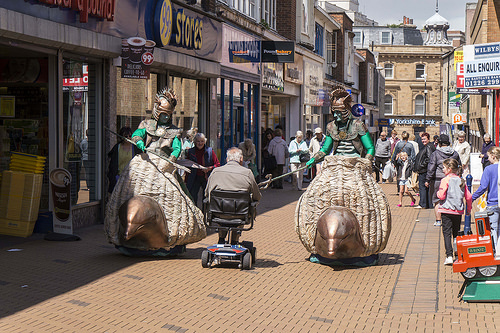 Location is always an important factor in the fortunes of a town, and the fact that Barnsley is judiciously located between Sheffield, Wakefield and Leeds has made it a popular place for people to live and work. Back in the 17th century, Barnsley was an important stop on the trade routes between London and Yorkshire, and for two hundred years, it became the principle centre for manufacturing, particularly of linen.
Shopping in Barnsley
Today, Barnsley is a thriving market town with a great range of shops. Barnsley markets sell everything, from clothing and homeware, to fish and meat. The market complex is one of the best in South Yorkshire, so be sure to do a bit of bargain hunting when you visit the town.
Discover Local History
If you want to learn more about Barnsley's historical past, head over to the Experience Barnsley Museum and Discovery Centre. Numerous fascinating exhibits tell the story of how Barnsley grew from a tiny settlement to a busy market town. There is a lot to see and do: visit the innovative Making History Gallery and let the kids dress up in replica Roman armour. You can even find out more about your family tree if you are from the local area.
Attractions near Barnsley
Cannon Hall near Barnsley is a beautiful Georgian country house museum. You can explore 70 acres of historic parkland and landscaped gardens, wander through the Cannon Hall Museum, check out the collection of artwork in the De Morgan Collection, and have a cup of tea in the café.
Wentworth Castle Gardens and deer park are scenic all year round, which makes it an ideal day out for gardening enthusiasts. You can explore the romantic follies, walk along miles of pathways, and visit the Victorian Conservatory.
Worsborough Mill is a working 17th century water mill located within a tranquil country park. Flour and cereals are still ground in the mill and you can buy the traditionally produced products in the mill shop. The country park is ideal for walkers and cyclists, and the reservoir is great for anglers and birdwatchers.
If birdwatching is your passion, be sure to make time to visit the RSPB Old Moor Nature Reserve in Wombwell, near Barnsley. There are lots of accessible pathways, quiet hides for birdwatching, and of course a handy café for when you fancy some refreshments.
Visit the Peak District
Barnsley lies on the edge of an area of outstanding natural beauty: the Peak District. This beautiful part of northern England is a great place to walk, climb, cycle, and generally explore. It is within easy reach of Barnsley, by car, bus or train.