If you've never explored the South West corner of Scotland, then Whithorn is the place to change that. Home to some of Scotland's most beautiful scenery, alongside the rich history and culture, this is a hidden gem that should top your bucket list.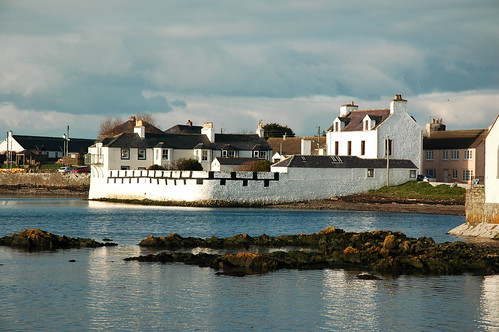 Whithorn Centre
The centre of Whithorn is the place to start, with plenty of places and events to join in with. Here, you'll find plenty of arts and crafts for sale, and since the 2013 initiative by Create Whithorn, the annual Arts & Crafts Trail promotes local art and artists, giving you the opportunity to see authentic and unique pieces you'll find nowhere else in the world. Whithorn is also home to the smallest theatre in Scotland, the Swallow Theatre, and is great for art lovers to get a taste of drama.
Whithorn is a hot spot for history, too – the Whithorn Story Visitor Centre outlines the place's role in the introduction of Christianity to Scotland. You'll be able to explore the story of St Ninian, a major figure in this powerful historic moment, as well as current excavations. You'll also be able to explore a reconstructed Iron Age roundhouse, showing you what life would have been like over 2,500 years ago.
Isle of Whithorn
Heading a little away from the centre, making your way to the Isle of Whithorn is not a choice you'll regret. This little, quiet town is the perfect photo opportunity, home to some of the most stunning views imaginable. You can walk up to the white tower that crowns the coastline, and if you're feeling adventurous, head out onto the rocks to get up close and personal with the wild Scottish waves. You couldn't get a better spot for a selfie than this stunning horizon of sea, and at sunset, there's no better view than from the top of these rocks. If you're feeling peckish, there's a homely café to feed you some homemade food with a view of the docks.
St Ninian's Cave
St Ninian didn't just influence Whithorn and Scotland, but also has his own cave which is free to visit. A short walk through the magical forest and windy paths will take you onto a wide stretch of pebbled beach, where you can sit and watch the waves rock up against the coastline. If you walk a little along the beach and up to the cliff face, you'll find a small cave laced with engravings and crossings from people who have visited from far and wide, as well as small crosses and piles of stones, or cairns. Whether you're religious or not, this place offers a serenity and peace like no other, and sitting down to take in the beauty and simplicity of the location is enough to soothe anyone.
Whithorn is a place like no other, and missing out on this experience is one you'll certainly regret. Make time to visit and really get a piece of the beauty of Scotland, hidden away from the hustle and bustle of the crowds.