Kirkcudbright can be considered one of the most colourful towns in the south west corner of Scotland, hosting plenty of festivals, exhibitions and events for you to be a part of. With picturesque scenery, friendly locals and culture like no other, Kirkcudbright is one of the hidden gems of Scotland and is well worth the visit for your next trip.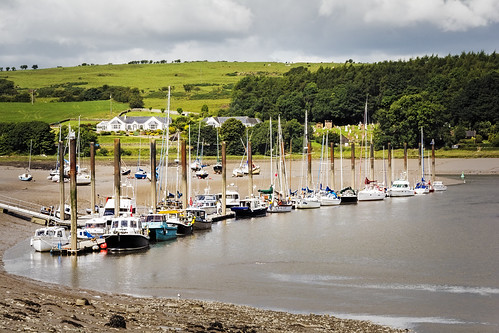 What's Going On?
There are plenty of events and activities going on all year round, giving you plenty of opportunity to find something right for you. There's the annual Scottish Night, where a variety of Scottish music and games celebrate the rich culture, and plenty of festivals for those who like a little indulgence, such as the famous Kirkcudbright Food Festival. There are also great activities for those with kids, from the Galloway Children's Festival, to the Arts and Crafts Trail, which will also give you the opportunity to explore Kirkcudbright and get a taste of authentic local artwork.
Places of Interest
There are several sights in Kirkcudbright worth visiting – the main point for those who like stepping back into the past is MacLellan's castle. Owned by Historic Scotland, and seated in the centre of Kirkcudbright, here you'll find many things to explore, from the dark and dreary vaults to a secret spyhole, hidden behind the fireplace. If you're lucky, you'll also have the opportunity to see Rapunzel and her golden locks poking from one of the top windows.
The Kirkcudbright Harbour and Marina is also home to ships pulling in their daily load, where you can get the chance to see scallops being pulled in. You can choose to watch from the bridge over the river, or take a seat in the docks themselves whilst enjoying the clear waters and hive of activity. There are also plenty of shops which are home to locally produced goods, from family bakeries to artisan craft shops and much more, meaning you can explore the unique offerings hand-crafted right here in Kirkcudbright.
Things to Do
There are plenty of things to do besides exploring the hot spots, however. If you're one for walks, there are plenty of nature spots nearby, one of the most popular being the Galloway Red Kite Trail. Here, you have the opportunity to see red kites in all their glory, soaring over your head and through the sweeping countryside. Another which is bound to add a bit of excitement for you and the kids is the Raider's Road – it's a little way out of Kirkcudbright, but well worth visiting. The road is infamous for being a site for raiders, seated in dense forest, offering the perfect suspense to keep you and the kids on your toes. The road ends up at a site called Otter's Pool, where you have the opportunity to sit back and watch the river rush down, and even have a paddle over the rocks in the shallow waters. Just make sure to bring some midge spray!
A beautiful hidden gem, Kirkcudbright is home to everything and more, enveloping you in true Scottish culture, and is not a place you'll want to miss out on.