Warwick is a town rich in history and filled with beautiful architecture, not to mention the incredible and majestic Warwick Castle which can't help but dominate the areas skyline. It is a beautiful place filled with secret gardens where you can disappear into a word where time has stopped still, surrounded by the most incredible historic buildings that add to the overwhelming charm of this incredible place. Warwick seems to be filled with some kind of magic that makes people want to return again for romantic breaks, long weekends and family getaways.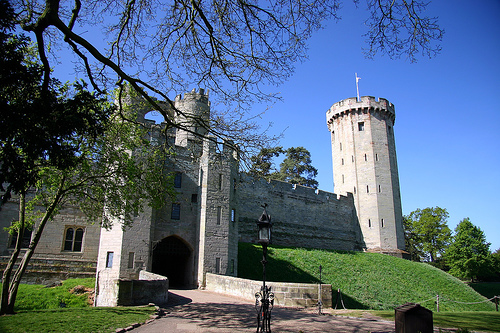 Things to See and Do
There are a number of excellent cafes and restaurants for you to enjoy when you need a break from exploring the town, and plenty of places to relax with a glass of wine when the sightseeing gets too much.  The old market square is always a hive of activity with a number of events taking place there across the year, as well as the popular farmers market that is held there every month.
Of course no trip to Warwick is complete without a visit to the castle. Warwick Castle opens the doorway to a medieval world. Stunning state rooms that are opulent to the extreme, the towers and ramparts that offer fabulous views across the county and of course the dungeons, chilly and dark. The castle does of course have a few ghosts that reside within its walls of which the guides will provide you with information should you request it. Different events take place within the castle grounds throughout the year with everything from traditional falconry and beautiful birds of prey being on display to atmospheric jousting tournaments, a throwback to the days of old.
Places to Visit
Right in the middle of town you will find the Market Hall Museum, set amid a backdrop of antique shops and independent retailers. As you head away from the centre of town, in the direction of Leamington Spa you will come to Smith Street, this historic street is the oldest shopping street in Warwick with plenty of unusual and interesting stores to explore. At the end of the street you will find St John's Museum.
Aside from the castle, Warwick is also known for its racecourse, which has a calendar of events which run right across the year, making a day at Warwick races a great opportunity for a day out. If you are looking for some peace and quiet St Nicholas Park is a great place to get away from everything, from here you will be able to hire a boat and take to the river. The River Avon will take you right past the castle battlements, offering you a unique view of the castle itself.
The Mill Gardens are the perfect place for a picnic by the river, and there are some old Victorian gardens that have been beautifully restored for you to explore at Hill Close Gardens. There are a number of family themed activities to be enjoyed at Hatton Country World including a farm where you can get up close and personal with the animals and enjoy a well appointed shopping village.