Situated in the heart of Yorkshire not too far away from the metropolis of Leeds, Wakefield now proudly boasts the recently opened The Hepworth and the stunning Yorkshire Sculpture Park that spans over a mind-boggling 500 acres of green parkland. Traditionally, Wakefield was not a typical tourist destination, but it is fast growing in popularity and thousands of people visit this small yet archetypal Yorkshire city every year.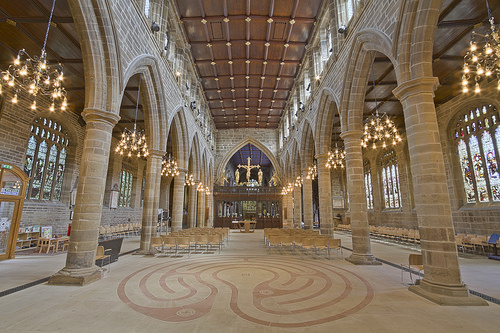 The National Coal Mining Museum
Yorkshire was once famous for its mining industry and the National Coal Mining Museum is a dark reminder of what it was like to be a miner of the past. Travel down 140m below the earth's surface and you'll see first hand what conditions miners had to endure. This trip is definitely not for the faint-hearted or claustrophobic, but it really gives you a taste of the working class throughout history. This is one museum with a difference. You'll even get the opportunity to meet some of the ex-miners and ask them questions.
Wakefield Cathedral
Right in the heart of the city, the well preserved Saxon Cathedral stands proudly. Erected in the 11th century by the Normans, this heavenly place of worship is one of the best preserved cathedrals in the Yorkshire vicinity. The original high panelled roofs that were intricately carved still remain in perfect condition so many years later. Wakefield Cathedral is home to the highest tower in the whole of Yorkshire and it measures an amazing 247 feet high.
Even if you're not a regular member of the congregation, the Northern diocese welcomes all visitors with open arms whether you want to attend a service, reflect, light a candle or stand in awe of the architectural masterpiece.
Family Fun Day at Pugneys Country Park
Imagine a country park that spans over 250 acres of beautiful land. Pugneys Country Park was once upon a time an open cast mine and gravel quarry. It wasn't until the mid-80's that it was completely renovated and transformed into grassy park with two lakes.
If your family is into water sports of the non-powered kind, this is a great destination for a fine family day out in Yorkshire. Enjoy hiring some gear and going sailing, windsurfing or canoeing. If you're a serious waters sport enthusiast and you've got your own equipment, you're also welcome to bring that along too. Circling Pugneys' largest lake, there's a winding footpath that measures approximately 1.6 miles long. It's perfect for everyone who wants to go for a jog in a scenic area or if you're not into that, you can just take a leisurely stroll and take in the pretty nature and fresh air.
The Hepworth Wakefield
Who would have thought that one of Europe's most impressive contemporary art museums could be found in Wakefield? Forget London and the Tate Modern, The Hepworth Wakefield is the UK's biggest purpose-built art gallery and it bears the name of Wakefield's very own famous sculptor, Barbara Hepworth. This inspiring gallery houses a great number of unique and original sculptures created by the hands of Wakefield's pride and joy, Barbara Hepworth. Both adults and children will love The Hepworth Wakefield. There's a wonderful family gallery trail that will guide you and help you to understand and explore all the different galleries. Children can have fun at the play park next to the river while their parents enjoy a cup of tea in the picnic area.
If you've got kids, make sure you check out The Hepworth Wakefield during the weekends and holidays as there are often a number of different free and paid exciting activities for kids to take part in such as helping staff make giant sculptures.
Diggerland
Diggerland is great chance to experience riding in and driving JCB diggers. You'll be given the opportunity to try out your driving skills on dumper trucks. You'll also get the chance to better your hand eye co-ordination on various mini JCB challenges as well. Kids will love searching for buried treasure and if you're game, you can all experience the number one adrenaline rush on a ride called Spin Dizzy that will offer you amazing views 50ft up in the air.
Young kids can enjoy Diggerland as well by mucking about in the digger sandpit and playing a range of cool computer digger games. There's even an indoor ball pit where kids can have fun under the supervision of Diggerland staff members while parents enjoy a coffee at the snack wagon.