It is impossible to write about Stratford upon Avon without at least mentioning William Shakespeare, and there are opportunities here in Stratford to follow all aspects of his life from birth right through to his death.  Visitors can step foot inside the buildings in which he once walked and even see his plays performed in some of the town's fabulous theatres, but although you will rarely see it mentioned anywhere, there is much more to Stratford upon Avon than the life and works of the nation's favourite Bard. The town itself is beautiful and in many ways has changed little over the centuries managing to retain a lot of its old world charm amid the modern buildings and traffic filled streets.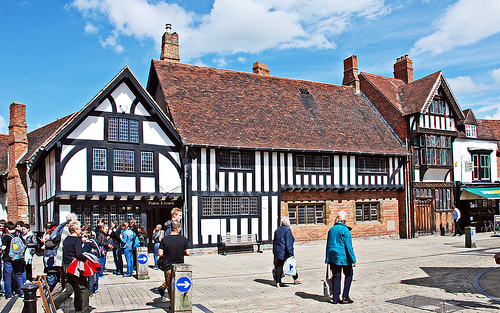 Embracing the Past
It is perhaps because of the town's most famous resident that the historic buildings have been so incredibly well preserved, as you walk along the street you could be forgiven for thinking that you had travelled back in time as it seems as though the past comes very much to life here. Take a small journey outside the town and you can get an authentic taste of what it was like to live and work in the 16th Century on the farm where Shakespeare's mother spent her youth. Many of the attractions here are of course linked to Shakespeare, but even so they offer an incredible snapshot of life centuries ago. Make a point of visiting his birthplace, experience 16th Century life on Mary Arden's farm, and step back in time as you visit Anne Hathaway's cottage. Once you have experienced all of the landmarks in the life of the bard, make a visit to the Holy Trinity Church and gather your thoughts as this is where the Bard was laid to his eternal rest.
Family Activities
A visit here is not all about the theatre and tracing the life of the Bard, there is plenty to do when you visit as a family. You will find more than one hundred different and colourful species of butterfly at the Butterfly Farm, and if the kids love mini beasts and creepy crawlies then they will love visiting the Black Widow and her friends at Arachnoland, well providing that their parents aren't too squeamish of course. If that is a bit too much there is also the museum of Wizardology and the imagiscarium which are housed in the spooky Creaky Cauldron Building. There is enough here to keep their imaginations fired for some time to come.
Regular Events
There are a number of regular events that take place every year including a literary festival where you could get to meet some of your favourite authors and come away inspired to write your own book. Time your visit right and you could be relaxing with some wonderful holistic therapy or listening to live music performed on a floating stage at the popular Stratford River Festival. The biggest celebrations and events take place around Shakespeare's birthday in April which makes it a really great time to visit.