At the heart of the North West of England, Salford is a vibrant city located next to the City of Manchester. With a fascinating heritage that features many historic places located on both land and water, Salford offers a wide range of arts, culture, shopping, sport, and even some great scenery. With the Bridgewater Canal, a popular leisure destination which played a pivotal role in the industrial revolution and attractions such as The Quays and the Lowry Centre offering shopping, dining and entertainment whilst celebrating the rich history of the area, there is plenty to see and do in the City of Salford.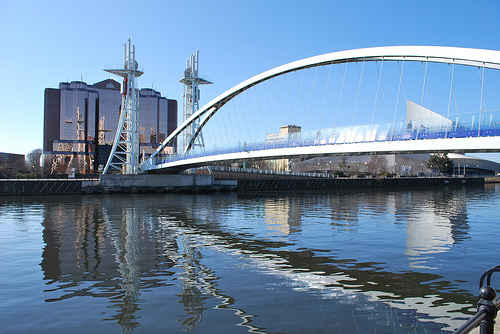 Salford Quays
Located in Ordsall in the heart of Salford and close to Manchester United's famous Old Trafford football ground, The Quays is a unique waterfront destination which can be reached in just fifteen minutes from the centre of Manchester. One of Britain's top destinations for a short city break, The Quays is home to a range of hotels, shopping, sport, drama, entertainment, art, and world-class architecture, packing everything that you can do on a short city break into one spectacular square mile. With the Imperial War Museum and the Lowry Centre as stunning examples of contemporary architecture, The Quays has something to do for the entire family, whether you want to spend your weekend shopping, taking a tour of the studios at MediaCityUK, or visiting the VUE cinema.
Sports
If you are an avid fan of either football, cricket or rugby, Salford is home to some of the best clubs in British sport with Manchester United, Lancashire County Cricket Club and Salford Reds Rugby Club all a short distance away from the centre of the city. Head over to The Quays if you are looking for the best in either football or cricket; you will find official shops for each of these clubs where you can purchase official merchandise and pick up special souvenirs to remember your visit to the sporting mecca of the North West of England.
Events and Entertainment
Whether you are a fan of musical theatre, stand-up comedy, music, or even circus shows, the Lowry's renowned Circle Theatre has it all to offer. Salford is also well-renowned for its musical history and for those who enjoy classical music, there are free chamber music concerts held monthly at Peel Hall, located on the University of Salford campus, brought to you in partnership with the BBC Philharmonic Orchestra. During the autumn months, Salford Music Festival is a popular annual highlight, offering a wide, diverse array of both established and up-and-coming talent, showcased at some of the best pubs and bars which the city has to offer.
With an ideal location close to Manchester City Centre, Salford is the perfect destination for people of all ages. With sixty different parks and open spaces, a vast array of shopping and dining opportunities and a calendar bursting with various events and entertainment opportunities, why not choose Salford for your next British city destination and learn more about what this small yet rich city has to offer.