Nottingham is a fabulous city, and often surprises many of its visitors with its vibrancy and colour as they somehow expect it to feel historic and sombre, when it is anything but. It boasts a blossoming fashion industry and some incredible nightclubs which is probably due in part to its status as a university city. The shopping opportunities are fabulous and the city centre draws people from far and wide. The city of Nottingham grew famous for being the historic centre for lace making, an industry which has influenced the way that the city has grown and developed, there are still a number of lace makers in the city and a trip to the lace market is well advised.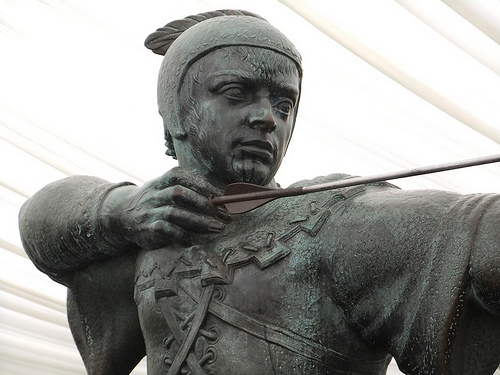 Nottingham Associations
A good proportion of the tourism in Nottingham is based around the legend of Robin Hood and his adventures in Sherwood Forest. This local folk hero has been immortalised in film and television productions over the years, and the popularity of the tales surrounding the outlaw and his band of Merry Men seems never to fade. In honour of the local legend there are a number of streets in the city named in their honour such as Maid Marian Way and Friar Lane. The best way to see the city is on one of the many guided yours that are on offer including the ghost walk. Nottingham is a regular venue for ghost hunting as there are believed to be many spirits wandering the city unable to rest which date back to times long past in the city.
Things to See and Do
While in the city you really should pay a visit to Nottingham Castle as it is probably the biggest and most well known city landmark. The view from the top of the castle offers a stunning vista of the sprawling city and beneath the ground there are a number of old underground tunnels and passageways to explore. One of the oldest public houses in the country is based in Nottingham, The Old Jerusalem has at least 800 years of history within its walls, and of course the odd ghost or two. Sherwood Forest Country Park is also very popular with the ancient oak trees that it contains brining the myth of Robin Hood a little closer.
Galleries and Museums
The Museum of Nottingham Life takes you on a trip through time, illustrating the way that the city developed and evolved across the centuries. The museum itself is situated within some authentic 17th century workers cottages and gives you a real sense of city history as soon as you step over the threshold. The best place to view the incredible, intricate and delicate lace work that the city is famed for is at the Museum of Costume and Textiles. Modern day arts and crafts are available to view at the Sherwood Forest Arts & Crafts Centre which is located in the heart of Sherwood Forest where you will find the work of several local artists on display.