Newstead Abbey House and Gardens are located in Nottinghamshire, just a short distance from the M1 and nearby Mansfield. The estate is open to visitors all year round and even when the house is closed, you can still explore the gardens and 300 acres of parkland. Fans of Lord Byron will find the house fascinating, as it was once the home of the famous Romantic poet, but if history is your passion, you'll be thrilled to learn Newstead Abbey dates back more than 800 years.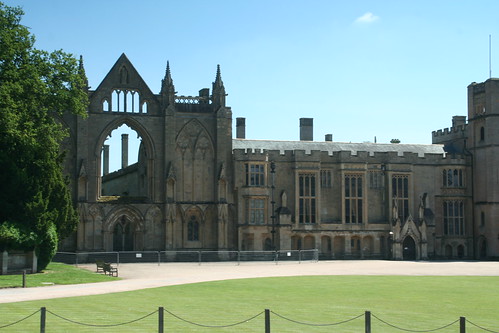 Things to See at Newstead Abbey
Only some parts of the original monastic abbey are still standing, notably the West Front and the medieval cloisters, but there are lots of things to see inside the house. Lord Byron's apartments are well worth a tour. Visitors can see many of his personal items, including manuscripts and letters, portraits, his bed, and also his writing desk, where he penned some of his most famous work.
As well as Lord Byron's apartments, visitors can explore the Victorian Kitchen and several interesting room displays. There is also a gift shop inside the house, with various souvenirs available at all price points. Look out for the sculpture of the Virgin and Child located in the West Front of the priory church.
The gardens at Newstead Abbey are a wonderful attraction, with something to offer visitors all year round. There are various separate garden areas, all with a theme, so take your time and explore each one.
The Japanese Gardens have sunken pools, streams with stepping stones, and rockeries, alive with lush ferns and foliage. The kids will have great fun wandering around the twisting pathways but note that there are a lot of steep steps to navigate.
Other garden oases include the Rose Garden, the Sub-Tropical Garden, the Venetian Gardens, the small Walled Garden, and the French Garden. There are sixteen different gardens in total, so gardening enthusiasts will be in seventh heaven.
The Boatswains Tomb is a monument to Lord Byron's pet dog; it's much larger than the dog ever was, which is a testament to how much Lord Byron adored his beloved Newfoundland.
Other Things to Do at Newstead Abbey
Don't forget to download a map of the walks and trails before you visit Newstead Abbey. Well-behaved dogs are welcome in the gardens and parkland, so your four-legged friend will have lots of fun scampering after the kids as they hunt for clues and complete other fun activities.
Make sure you allow enough time to visit the café. There is a lovely courtyard area where visitors can enjoy hot and cold food and drinks. The cakes are particularly delicious and staff are happy to bring food out to you if you have a dog.
Visitor Information
The park and gardens at Newstead Abbey are open every day, from 10AM to dusk. You can buy tickets online or on the day, with contactless payments available for the car park. Public transport is available from both Mansfield and Nottingham, via the Robin Hood Line – get off at Newstead.