If you're looking for a fun seaside day out in Britain with your family, Margate is an excellent destination. A seaside town located in East Kent, it's buzzing with tourist attractions and a wealth of family-friendly things to do. Whether you're looking for a fun-filled day out or are even thinking of taking your family on a seaside getaway in the UK, Margate has something for everyone – read on to find out more about the main attractions and things to do in this lovely seaside town.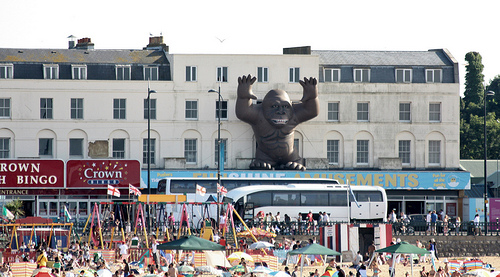 Margate Main Sands
The main reason for visiting a seaside town is usually to visit the seaside, and Margate does not disappoint. Margate seaside is popular for its wide sandy bay, and is a great beach destination for families who want to experience traditional seaside fun as well as great entertainment.  The beach has an excellent tidal pool which is great fun for both adults and kids, and there's a range of kids entertainment available during the summer holidays including fun fairs, arcades and children's rides. Even if the tide is in, there is still plenty of room on the beach to relax in the sun and play around making sandcastles. The beach is covered by lifeguards from May to September, and is just a short walk away from a number of great cafes, restaurants, and seafood stalls in the Old Town.
Turner Contemporary
Turner Contemporary is an art gallery that's free to visit and caters for the whole family, making it a great place to visit on a family day out, especially if you are on a tight budget. The range of exhibitions and collections on show are ever changing, meaning that if you've visited before you won't be disappointed if you visit again. If you're planning on taking young children along, the art gallery has a special room set aside for kids that has a range of toys and games to keep them occupied, and they regularly host events, projects, talks, workshops and film screenings suitable for the whole family through the Public Learning Programme.
Walley World Indoor Adventure Playground
For a fun-filled day out with young kids, why not visit Walley World Indoor Adventure Playground in Margate. An excellent option for those days that may be a little bit too chilly to visit the beach, and a great destination for child's birthday parties or other special occasions that require a bit of fun, Walley World is a wonderful soft play adventure area suitable for kids up to eleven years old that will have you wishing you were a child again. The trained staff are always on hand to make sure your kids are playing safe, and for the adults there's a hot and cold snack bar with plenty of seating available.
Have you visited Margate? Which are your favourite attractions? If you've got any advice regarding the best place to visit for those visiting the seaside town for the first time, we'd love to hear from you in the comments below.