There are reasons why Hull Fair attracts thousands – if not millions – of people every year. The fair is not only the biggest in Britain or in the UK but also in Europe. It is also the oldest by a long margin, with its history going all the way back to 1278, more than 700 years ago. Hull Fair occupies the Walton Street car park, but it is accessible from several surrounding streets.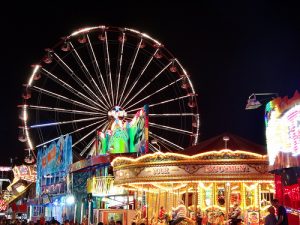 Hull Fair is almost a tradition these days. A lot of people visit Hull Fair year after year. There is a unique ambiance and truly exciting experience that you just cannot get elsewhere. You also don't need to create a complex travel itinerary to visit the fair, as long as you time your visit correctly.
Rides and Excitements
Just like other fairs around the world, Hull Fair is filled with rides and exciting things to do. This year's fair was interesting due to the addition of some new rides to try, and Hull Fair fans – as well as its organisers – are already saying how next year's fair will be even bigger.
It probably will. Hull Fair has gotten bigger and bigger over the years, with the 2018 fair being the most spectacular of them all. The fair also features some old favourites, including classic rides that are no longer seen elsewhere. It's this very combination that makes Hull Fair very interesting to visit.
Food and Vendors
Aside from rides, there are also plenty of stalls and shops to visit inside the Hull Fair. You can sample anything from sweets to tasty fish and chips. Other local street food options and there are new dishes being featured by vendors to keep guests entertained.
Of course, the Hull Fair is perfect for kids. The lights are gorgeous, the rides are fun, and the food and snacks here are worth exploring. Kids will also enjoy bringing home some souvenirs from the fair.
The Hull Fair Traditions
As mentioned before, visiting Hull Fair is more of a tradition these days. Ask any families who have been to the Hull Fair several times – or the locals who enjoy the festival so much – and they will tell you about some Hull Fair traditions to follow.
The weather is often cold (even freezing) so make sure you bring some extra coats. The fair is usually scheduled in October, usually in the second week of the month, and the cold weather is part of the fun.
Other Attractions to Visit
Once you are done exploring Hull Fair and its rides, there are still so many things you can do in the city. You can visit The Deep, which now features more than 3,000 species of fish and other marine animals and has a lot of activities for the kids to try. Hull Museum is no less interesting or educational.
Your children will also enjoy the many play areas spread across the city of Hull, including the Rascalz Play Area, Rock Up Hull, Kinderland, and William's Den. A trip to Hull for the Hull Fair will be a fun trip for everyone.