Located in Surrey, around 30 miles south west of central London, Guildford is a town with a lot of history which is also a good place for a day of upmarket shopping. Described by poet John Betjeman as a 'beautiful city', Guildford is not actually a city at all, despite having both a cathedral and a university – the two things most people consider to be the prerequisites for city status. Guildford is, in fact, a fairly large town, located close to attractive villages like Godalming and Witley, and is considered to be fairly typical of the home counties in the sense that it is a fairly wealthy place with a lot of its residents people who commute into London. Guildford is also a popular place for people to visit on day trips or for weekends, due to its pleasant surroundings and good shops and restaurants.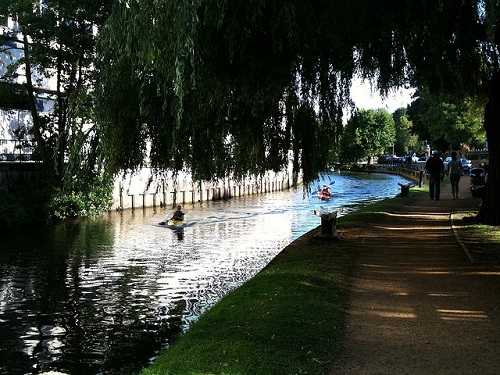 The Main Sights in Guildford
The River Wey runs through Guildford, and it is by its banks that Lewis Carroll is believed to have come up with the ideas for the Alice in Wonderland and Alice Through the Looking Glass Books. You can therefore find homages to Lewis Carroll and Alice herself throughout the town, with statues of some of the characters by the river's banks and a sculpture of Alice going through the mirror in the gardens near the castle. Guildford's castle is mostly ruins, but is set in green hills close to the town centre, which make it a pleasant place to take a walk or sit on the grass and relax on a break from the shops.
One of Guildford's other key sights, which you can't really miss, is its unique cathedral. Unlike most ornate, old cathedrals, Guildford's is a tall, imposing and fairly modern red brick building which sits on a hill and can be seen from a lot of different places throughout the town. It has a golden angel on top of its highest point. Film fans may be interested to know that this was the cathedral featured in classic horror movie The Omen. You can visit the cathedral and take a look around if viewing it from afar has you intrigued.
Shops in Guildford
Guildford is known for its shopping, and you can find a lot of high end shops as well as high street favourites and unusual boutiques. There are two main streets with shops on which run parallel to each other – North Street and the High Street. On North Street you will find also the Friary shopping centre, a Westfield shopping centre with a lot of popular brands like Topshop and Miss Selfridge. You will also find the large House of Fraser department store on North Street in an attractive glass building. For designer names and classy boutiques, look to the High Street on the small side streets connecting the two main shopping streets.
As well as having some interesting sights to see and being a cool shopping destination, Guildford also has a lot of great restaurants and pubs, making it a really good place to visit for a day or weekend. Easily accessible by train, just 30 minutes from London Waterloo and on the main train lines between a number of cities, Guildford is easy to get to and a very nice place to check out.