Located in the West of Yorkshire, Dewsbury is known for being a bustling market town. Its history dates back well over 1000 years which is documented in the fine well-preserved buildings from the early 19th century. If you're in the Yorkshire area, this is well worth a day trip as the architecture and hustle and bustle of the marketplace alone will make you fall in love.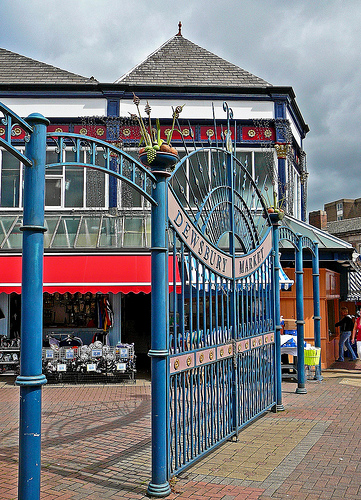 The Dewsbury Market
Aptly located on Cloth Hall Street, you can't visit Dewsbury without seeing what it's famous for. Every Wednesday and Saturday, you'll have the chance to visit the huge general market. It's a shopper's dream. It's literally a place where you can buy every knick-knack imaginable and where those looking for a great bargain will be in paradise. There's so much on offer and it rivals some of the capital city's more famous markets. Scour the stands for different kinds of local and exotic foods. Rummage through vintage clothing bins or pick up some cool accessories – Dewsbury Market has it all.
During the year, there are many interesting events for the whole family that take place in and around the Dewsbury Market area such as the one and only Onion Fair where you can witness some of the world's biggest onions.
Dewsbury Minster
Yorkshire is famous for its plethora of abbeys and churches, which is why it's no surprise that Dewsbury is home to one of the more historic ones. This has been a regular place of pilgrimage with people from around the world visiting each year. Open every day, the parish welcomes visitors who want to pray, rest or even just visit and grab a light refreshment. You can even sample a delicious home cooked Yorkshire inspired meal in the Minster's stunning refectory at very affordable prices.
Dewsbury Museum
Dewsbury museum makes for the perfect family day out. It's a way for young and old to enjoy themed exhibits that are all aimed at children and of course the young at heart. Toy lovers will be in heaven and you'll learn about the history of toys and why they've always played an important part in children's lives around the world.  All exhibits are perfectly documented and you and your children will learn what it was like growing up in the early 1900's pre-technology.
Savile Town Wharf
Situated on Mill St East, this quaint little wharf that's recently been completely refurbished is home to a number of quirky house boats. Constructed in the early 19th century, it doesn't look much different to when it was in full force back in its hey-day. It is one of the oldest working boatyards that still exists today and many different people from walkers, joggers, boaters and cyclists enjoy using it on a daily basis.
After a beautiful stroll along the wharf or a peaceful ride in a tug boat, you and your family will have the opportunity to relax in the traditional coffee shop that's located in an old stable block. Every year, members of the public are treated to an array of fun events held at the wharf including the ever-so-popular canal festival.