Bradford is a large, multi-cultural city in West Yorkshire, adjacent to Leeds and nestled at the foot of the Pennines. Despite its industrial heritage, Bradford has award winning museums, many examples of fine 19th century architecture, and plenty of great things to see and do. Thanks to the success of the wool trade, the city of Bradford expanded massively in the 19th century and people came from all over to work there. Today, many of the old mills and Victorian buildings have been restored and put to a different use as the city diversifies in the wake of a decline in traditional manufacturing industries. The modern population of Bradford is just as ethnically diverse as it was 100 years ago. There are many immigrant communities from Eastern Europe and south Asia living in Bradford, so you will have a wealth of fantastic restaurants to choose from. Indeed, there are some fantastic curry houses in the city if you enjoy a nice, hot curry eaten the traditional way with chapattis instead of cutlery.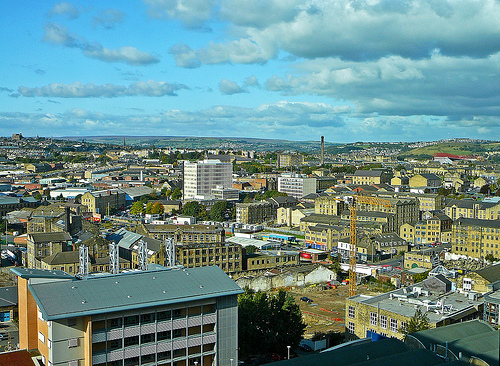 Things to See and Do
If you love film, Bradford is the place to be. It is the first UNESCO city of film and the city has strong roots in the film and TV industry—several major films were made in Bradford, including Billy Elliott and Room at the Top. The IMAX is the place to go if you want to watch a film on an absolutely enormous screen, but don't forget to visit the National Media Museum to learn more about the world of film, photography and animation; it's also free! Bradford Cathedral is another important landmark in the city—it's a beautiful building and contains a number of interesting features, including stained glass designed by William Morris. Another important place you really must see if you come to Bradford is Saltaire, a former Victorian industrial village that has been designated a UNESCO World Heritage Site. There is a museum there dedicated to the work of local artist, David Hockney.
Places to Visit
There are loads of interesting places to visit in Bradford. The IMAX and Saltaire are two of the most popular, but Bradford also has many other great museums and attractions, both in and out of the city centre. The Bradford Industrial Museum has lots of permanent exhibits that tell the story of the city's industrial heritage. Bolling Hall will be of interest if you want to delve a bit deeper into Bradford's past. The hall was a Royalist stronghold during the English Civil War and it even has a ghost in residence if you are lucky enough to spot her! The Peace Museum offers something a bit different—it's dedicated to conflict resolution and all things non-violent, which makes a welcome change. If you are interested in architecture, head for Little Germany. It is a fascinating part of the city and there are a staggering 55 listed buildings in this part of the city. And once you have seen everything of interest in the city, head out into the moors and explore Bronte Country: nearby Haworth is the birthplace of the famous Bronte sisters.