Watch Her Majesty's Birthday Parade – Trooping the Colour in June
Events taking place in London are often expensive. For example, if you fancy going to a show in Covent Garden, it will cost you money. Or if a night at the opera appeals, once again you will have to shell out a fair amount of cash for tickets. So free events in London are not something you should ignore, especially family-friendly free events. One free event that will be pretty impossible to miss due to the sheer numbers of people present on the day is the annual Queen's Birthday Parade, otherwise known as 'Trooping the Colour'.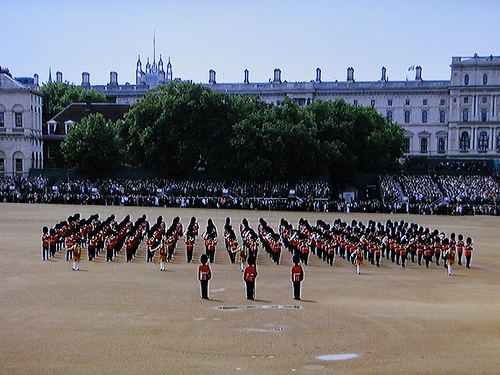 Nobody does pageantry quite like us Brits and watching Trooping the Colour live is a fascinating affair. Although the event is in honour of Her Majesty's birthday, this is not the day where the Queen has a cake and umpteen candles. Her actual birthday falls on April 21 and this parade commemorates her official birthday instead.
What is Trooping the Colour All About?
The tradition of Trooping the Colour dates back to the 18th century. The modern pageant is all about pomp and circumstance, but back in the day it actually had a serious purpose. Long before tanks, fighter jets and the might of modern warfare came into being, troops were sent into battle on foot and horseback. Each regiment on the battlefield carried a standard (a large flag), which was considered to be very important and therefore protected. Soldiers needed to be able to recognise their own standard and Trooping the Colour enabled them to practice complex marching manoeuvres whilst keeping an eye on their own regimental standard.
A Visual Spectacle
Trooping the Colour is a massive visual extravaganza. Hundreds of Horse Guards from Her Majesty's Household Division, including soldiers on foot and on horseback, perform lots of marching manoeuvres down the Mall and in the vicinity of Buckingham Palace. Once upon a time, the Queen would have taken part on horseback, but you won't see her on a horse these days. Instead she sits in her highly decorative carriage, usually accompanied by Prince Phillip and a couple of other Royals. Once the parade is over, members of the royal family head back to Buckingham Palace and make their customary appearance on the famous balcony so that the press and public can take photos and wave for a short while.
Where to Watch Trooping the Colour
You could watch the parade on the TV, but it's far more fun to come along and watch it in person. After all, you might be lucky enough to see a few other members of the royal family. It costs nothing to find a spot along the Mall or around St James's Park, but if you want to ensure a clear view of the proceedings, be sure to turn up nice and early—preferably the previous evening if you are determined to have a front row spot. And if rain is forecast, don't forget your umbrella.
There are paid seats available in the grandstand, which will give you a much clearer view, but applications must be made to the Brigade Major, Headquarters Household Division, at the beginning of the year and there is no guarantee of success.