The National Gallery in its full glory is visible in the heart of Trafalgar Square. Its collection permanently houses some of the world's most important and valuable paintings from as far back as the 13th century. When visiting, you can ponder upon the works of greats such as Van Gogh, Raphael, Cezene, Renoir, Monet, Rembrandt, and da Vinci. The gallery was built in 1832/1833. It attempts, and with some success many believe, to outshine Paris's Louvre. Its sole reason for being is to make art accessible to all with free admission. It has extended opening hours and is central located and extended opening hours. The important thing to remember in planning your visit is not to try and see everything.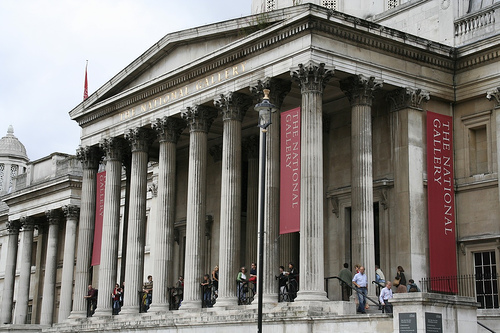 The National Gallery is not called the Royal Gallery because it is not based on a former royal collection. It all started in 1824 when the British government agreed to purchase some 38 paintings from John Julius Angerstein, a Russian banker, for approximately $112,000 US (£57,000). The paintings were initially displayed in Angerstein's home on The Mall (the road between Buckingham Palace and Trafalgar Square) but a larger site was required and Trafalgar was chosen.
The National Gallery was established not for just the privileged but rather for the benefit of all. It has always been committed to extended opening hours, keeping a central London location with access for everyone, and maintaining free admission. It is the Gallery's position that the paintings belong to the public.
London's National Gallery displays Western European paintings from about the 1250 to 1900 time period. There are guided tours, audio and visual programs, special exhibitions, and holiday events for adults and children.
In the National Gallery houses the most extensive and finest collections of the world's greatest masterpieces. These include but are not limited to: Van Eyck (1395-1441), The Arolfini Portrait. A couple solemnly holds hands while the mirror behind them mysteriously illuminates what can't be seen from the front view; Botticelli (1445-1510), Venus and Mars. Mars is oblivious to the lance wielded by mischievous cherubs while he sleeps exhausted by the love goddess; Leonardo da Vinci (1452-1519), The Virgin and the Child. This is a haunting chalk and black cartoon is partly famous for having been attacked at gunpoint which is why it now gets extra protection behind glass; Caravaggio (1573-1610), The Supper at Emmaus. A freshly resurrected and cinematically lightened Christ blesses bread in an astonishingly domestic vision from the master of chiaroscuro himself: Constable (1776-1837), The Hay Wain. This is the definitive image of golden age rural England rendered overly familiar by too many greeting cards; Turner (1775-1851), The Fighting Téméraire. This displays the final voyage of the great French battleship into a hazy, livid, sunset: