The Tower of London and the Crown Jewels
The Tower of London has been the home of every Monarch from William the Conqueror, in the 11th century, to Henry the VIII, in the 16th century. It has also been the Royal Observatory, the Royal Menagerie, and the site of the Royal mint. The Tower of London is notorious for being the scene of too many executions to count, including the second wife of Henry VIII, Anne Boleyn, and for its prison. Young Prince Edward V and his brother were imprisoned in the Bloody Tower on their uncles' orders. From 1603 until 1616, Sir Walter Raleigh was also imprisoned there.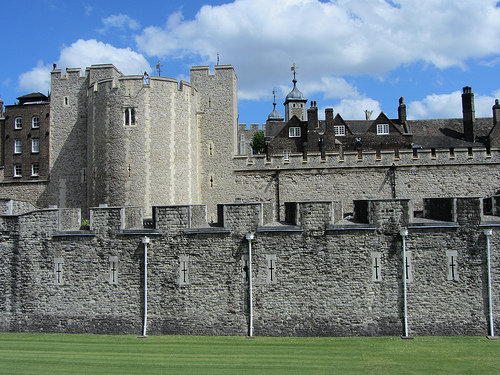 Most visitors to the Tower of London come to see the Crown Jewels. This is an incomparable collection of gold and silver plate, scepters, swords, orbs, and crowns. In 1649 parliament ordered all of the precious metals, including gold, to be melted down for use as coinage and it was refashioned in 1661.
The Imperial State Crown which is worn by monarchs is set with jewels of great historical significance and antiquity. The oldest jewel is a sapphire originally belonging to Edward the Confessor which is now mounted in the cross patee above the monde which is and believed to have been in a ring worn by him. The great gem above the rim is the ancient balas ruby which is known as the Black Prince's ruby and said to have been given to him by Pedro the Cruel of Castile.
Queen Elizabeth's four superb drop pearl earrings hang from the arches but there is no evidence that she ever wore them in this way. At the back of the crown and set in the rim is the Stuart sapphire. Although it is probably much older than its name implies it is known to have been in the possession of James II when, after his deposition, he fled to France. It was originally mounted at the front in the rim, but was later displaced by the Second Star of Africa which was cut from the Cullinan diamond. The Imperial State Crown also contains, in addition to those, over 3,000 fine pearls, diamonds, rubies, emeralds, and sapphires.
Founded nearly a millennium ago and expanded upon over the centuries since, the Tower of London has imprisoned, housed, and protected, and for many was the last sight they saw on Earth.
It has been the living quarters of Monarchs, the seat of British government, the repository of the Crown Jewels, and the site of renowned political intrigue. It has housed bears, lions, and, to this day, flightless ravens, wrongly accused members of the court, knights, clergymen, ministers and lords, and notorious traitors.