The quirky Cartoon Museum opened in London in 2006.  Packed with British comic strips and cartoons it features a little bit of everything, including some incredible caricatures from the 18th century right up to modern publications like the Beano and the Dandy.  You may have walked past it on your way to the British Museum as it is literally only a stone's throw away on Russell Street.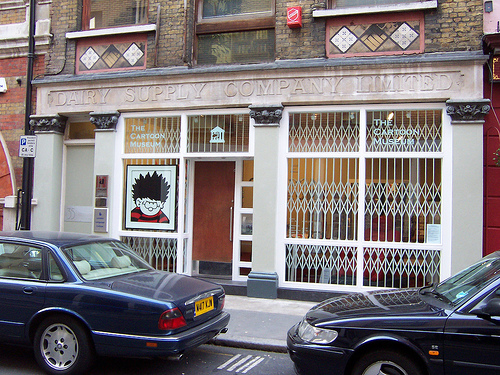 An Amazing Collection
As with many of the more unusual and quirky museums in the city, the exhibits are the product of one man's passion for collecting.  Luke Gertler has loved comic books since he was first introduced to the tales of Rupert Bear as a child.  This love of comics and passion for collecting has resulted in an amazing collection which can now be viewed by the public.  Featuring around 800 original cartoons plus associated material like caricatures and comic books it showcases the work of over 100 different artists from the 18th century through to the present day.  Visitors will recognise many characters from their own childhood like Korky the Cat and Desperate Dan through to Judge Dredd and the modern graphic novel.
A Life's Work
Gertler started collecting in his teens and was drawn to the colourful imagery of artists like Donald McGill and the incredible detailing of Heath Robinson.  Over the years he built his collection with flea market finds, antique store items and even wrote to several artists, many of whom sent his samples of their work for his collection.  Satirical magazines like Punch, Tatler and Private Eye are featured for the way society and politics of the day are reflected in their cartoon drawings.  Luke is still continuing to add to his collection, and what is on display in this museum is only a part of it.
Museum Highlights
There are some original, rare pieces of artwork on loan to the Cartoon Museum that feature all of the favourite characters from the Dandy and the Beano.  If you haven't seen a 3D cartoon now is your chance as Gerald Scarfe's 'Chairman Mao' is on display here.  There is also a display of original war cartoons and an amazing mural painted by many of today's top cartoonists.  Perhaps the very best part of the museum, other than the private library that contains thousands of books and comics, is the fact that this place is great for families.
Hands on cartoon themed activities are encouraged in the Young Artist's Gallery where you can draw, learn about and create your own cartoons, as well as taking part in animation classes and fun days for all the family.  Throughout the year the museum hosts workshops and educational activities that are open to both children and adults.  At these workshops you could learn anything from the classic genre of seaside cartoon postcards through to how to design and draw for a graphic novel.  Make a point of visiting, check out the exhibits and share some of your childhood with your own children.