A bustling port and thriving cultural centre, Portree is the main town on the Isle of Skye in the Highlands of Scotland. Set around the natural harbour and fringed with cliffs and high ground, Portree is a popular holiday destination for tourists and the harbour is used for both industrial fishing boats and pleasure craft. The town is home to a whole range of excellent leisure facilities including a swimming pool, boat cruises and pony-trekking trails plus plenty of opportunities for shopping.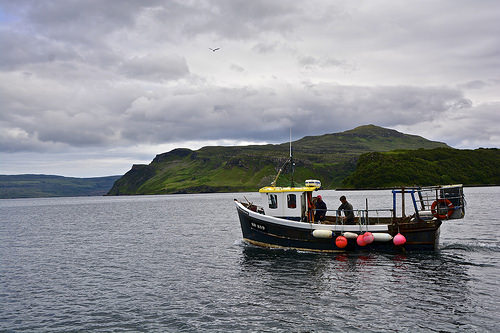 Attractions
The cultural hub for the Isle of Skye, Portree is home to the award-winning Aros Centre, one of the main attractions on the island which hosts regular film screenings, concerts and theatre shows. The centre also showcases an interesting exhibition which captures the fascinating drama of the history of the town and the Isle of Skye, along with a stunning RSPB exhibit that displays both live and recorded footage of rare sea eagles and other native birds.
Boat Trips
For those who enjoy exploring nature and the sea, the harbour at Portree is the perfect destination. MV Stardust offers one to two hour boating trips to the Sound of Raasay, providing visitors with a unique chance to spot wildlife such as seals, porpoises and perhaps even catch a glimpse of some of the island's rare white-tailed sea eagles in the flesh.  If you plan to visit Portree at the weekend, you can also take longer boating trips to the Isle of Rona for just £30 per person, or stop off at the Isle of Raasay to spend the day exploring. Once your boat trip has ended, Portree makes for an excellent base for those who want to explore the rest of the island which can be done via car, on foot, or by hiring a bicycle.
Dining in Portree
With its natural harbour that is the base for a range of fishermen, it's no surprise that fresh seafood is a popular cuisine in the town of Portree. Those looking to sample the best fresh fish and seafood that the town has to offer will not be disappointed, with a range of local restaurants serving up the catch of the day. Sea Breezes is a restaurant not to be missed if you're hoping to dig into some fresh seafood. It's an informal eatery with a friendly, no-frills attitude that specialises in serving local seafood and fish straight off the boat.
Shopping and Local Crafts
If you have a taste for quirky and unique handcrafted items, Portree is the place to be with a range of local gift shops run by artistic residents. With gift shops selling a range of interesting, one-of-a-kind items such as carved wooden crafts, handmade jewellery, Celtic-designed batik fabrics, handmade soaps and cosmetic items, and hand-knitted clothing, Portree is one of the best destinations to visit if you'd like to sample some of Scotland's best crafts and handmade items, with a huge choice of items to bring home as souvenirs.
If you're looking for a culture filled break in the highlands of Scotland which is close to the sea, Portree is a perfect destination choice.