Kids today are growing up with one foot in the real world, and one in the digital space. In this increasingly digital world, there are a number of things that many of us took for granted in our own childhoods which no longer apply today. Among these simple pleasures that so many of us fondly remember, are toys. Not toys like they have now, traditional toys which were often handmade. Pollock's Toy Museum is perhaps the perfect place for anyone with an appreciation for the art of toy making.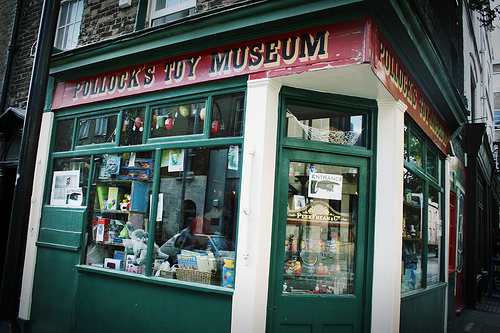 An Extensive Collection
Pollock's Toy Museum is a unique place; it is somewhere between a museum and a shop but is quite unlike either. Visitors will be treated to room after room of ornate and exciting toys, and each one is absolutely overflowing with charm and wonder. Whether these toys are relics from your own past, or they are a curiosity you remember your parents discussing, there is something magical about seeing a genuine handcrafted toy on display.
Pollock's Toy Museum houses a number of displays of puppets, as well as other paraphernalia of stages and theatres. Since 1956 the museum has educated and fascinated visitors in equal measure, providing them with an intriguing glimpse into the past.
Historic Site
The facade of the museum looks like that of a traditional toy shop, and disguises just how much space there is within. The site where Pollock's Toy Museum is located was once a shop and printers in the 1850s. At the time this area was known as Hoxton, one of the poorest areas in London. Benjamin Pollock is responsible for crafting, by hand, and constructing the majority of the toy theatre material which is on display in the museum today.
During the 1950s and 1960s the store was converted to its current purpose by a woman named Merguerite Fawdry. Much of the collection has been donated in the time since, other pieces have been bought at auction. It is run as an independent enterprise for the benefit of the public.
Other Museums Nearby
Pollock's Toy Museum contains a lot, so it will take some time to work through all of the museum's fifty plus rooms, each one stuffed to the brim with exhibits. However, whether you want to break up your visit a bit, or you are looking to supplement the experience, there are a couple of other museums nearby which might also appeal to you. First of all, the cartoon museum is a museum dedicated to the history of British cartoons. Visitors will learn about the development and history of British cartoons from their 18th century incarnations right up to the present day.
Then there is the Charles Dickens museum, which is dedicated to perhaps the most significant British novelist of all time. The Charles Dickens museum is home to over 100,000 items, which include personal effects, manuscripts and early versions of some of his works, and also various pieces of artwork. The museum is situated in Holborn and was Dickens' home from 1837 to 1839 and allegedly the place where he wrote both Nicholas Nickleby and Oliver Twist.
This is a perfect attraction for museum enthusiasts, and not only is it an absolutely fantastic site in its own right, there are also other museums nearby which will supplement the experience.