Pearly Kings and Queens Harvest Festival Continues this Weekend
For those of you who don't know, the Pearly Kings and Queens are members of an organised charity that celebrates the working class culture in London whilst making money for those less fortunate.  They originated in the 1800s when orphan street sweeper Henry Croft began to admire the costermongers (and their pearl buttons that were sewed along the seams of their clothes) as they would help one another when in need.  Croft began to collect the pearl buttons that he found whilst sweeping the streets and then sew them onto his clothes.  He continued on to become a "Pearly King" and raise money for charity – a tradition that it still upheld by the Pearly Kings and Queens of today.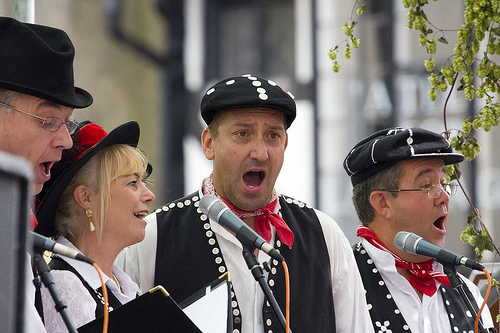 The descendants of the original 28 Pearly King and Queen families still carry on with this tradition and can be seen on a regular basis in and around London raising money for charities.  They make dozens of outings each year however the main event (and the last big event) each year is the Pearly Kings and Queens Harvest Festival.  The first part of this festival was held on the 25th September and the second part will be held on Sunday 9 October in St Pauls Church in Covent Garden.  Visitors who attend the event this weekend are sure to have some fantastic photo opportunities and also have the chance to donate money to a charitable foundation – this year the money being raised will be donated to the homeless living in Covent Garden.
The first part of the festival was a huge success when the Pearly Kings and Queens descended on the City of London's Guildhall.  The area was packed full of people with donkeys, a fairground organ, morris dancing and a maypole being the top attractions – of course the Pearly Kings and Queens couldn't resist dancing around this with a number of mayors and women in extravagant pastel outfits also joining in.  After the dancing celebrations was a parade in which wagons transported harvest festival items to the St Mary le Bow Church for the annual harvest service.
The Pearly Kings and Queens spend months making their outfits for this festival with decorations including suns, stars, moons, diamonds, flowers and other mystic symbols.  The festival on Sunday will begin at 10am where there will be a chance to meet and have photos taken with the Pearlies.  A harvest thanksgiving festival will then take place in which the Pearly Kings and Queens will take harvest baskets full of vegetables to the church.  A church service will then follow this.
If you really want to see a true London tradition, this is one that just cannot be missed!  Get yourself down to Covent Garden on Sunday and make sure you remember your camera!  The photos are sure to add a certain uniqueness to your photo album!  More importantly have fun.