Bubbleology in Soho Review
Some might call it brave, some might say stupid and others may say it's genius…  If you fancy something a little different on your next trip into London, I highly recommend checking out Bubbleology in Soho.  Bubbleology serve 'bubble tea' which is basically a refreshing milk or fruit tea that also includes tapioca balls.  The teas can be served either hot or cold and you will be given a big chunky straw in order to drink.  Originating in Taiwan in the 1980s, bubble teas took the Asian market by storm in the early noughties and they have only recently started to increase in popularity in Europe.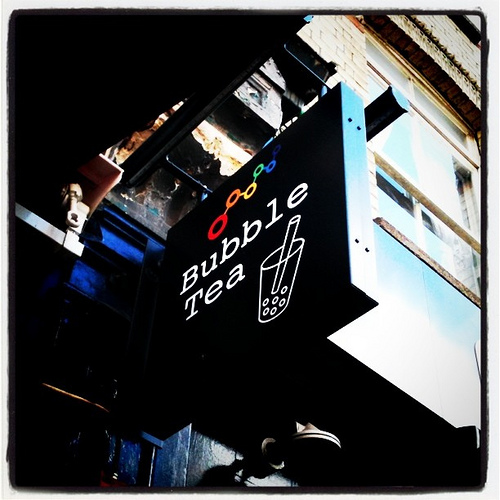 Bubbleology located on Rupert Street in Soho was one of the first bubble tea cafes in London and trust me its quirky appearance won't disappoint!  The inside is decorated to look like some sort of laboratory with large flasks bubbling away at the windows, chalk board diagrams on the walls and staff wearing lab coats.  If the decoration reminds you a bit too much of your secondary school science lessons don't worry as there are seating options outside too.
The menu is awesome with a variety of different options available for you to choose from.  Traditional bubble teas have evolved into super flavourful concoctions that include coconut, taro and almond and you can even get additions such as lychee jelly to add to your tea – anything is possible and the staff will be happy to let you make your own additions.  The prices aren't bad either.  You can expect to pay £3.25 for a medium tea and £3.75 for a large – that's cheap for London!  Of course, any extras such as jelly will be charged for as extras.
If you don't know what you're doing and just can't get your head around ordering tea with flavoured bubbles, just ask the staff for a recommendation.  They will be more than happy to recommend their favourite concoctions and it saves you the hassle of trying to work out what is going on if you've never experienced it before.  One thing I will add though is that if you are in a rush, this probably isn't the best place to nip to for a quick drink as the queues are quite often long and it can take the staff members around 20 minutes to make an order for you.
If you're getting a bit bored of drinking in London's pubs or wine bars after a hard day at work or if you want to go on a unique date with your partner or friends, Bubbleology is ideal and comes highly recommended.  It is the perfect place to relax and refresh on a hot day and whether you love or hate the bubble tea texture it is sure to be an experience that you will never forget.
Bubbeology is located on 49 Rupert Street Soho and is open from 11am to 10am Monday to Thursday, 11am to 11.30pm on Friday and 11.30am to 11.30pm on weekends.