Forget Oxford Street and Leicester Square, Covent Garden is the place to go if you want to have a relaxed and entertaining shopping experience in London.  It's not called the heart of the West End for nothing!  No matter what or who you are shopping for, it is likely that you will find it in Covent Garden with numerous fashion, beauty, jewellery, kids and unusual gift shops to browse through.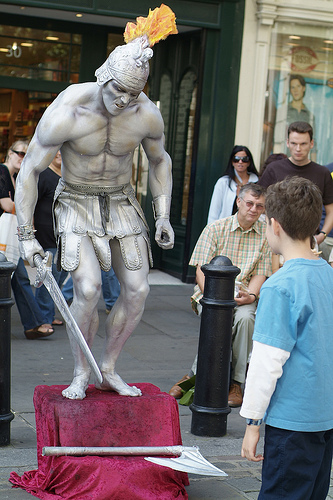 History of Covent Garden
Most people who visit Covent Garden do so because of the history of the place.  The area in which it stands on has been constantly occupied for over 2000 years, making it the longest inhabited area in the city.  Originally a Benedictine Convent site (hence its name) it was redesigned in an Italian Piazza style during the early 17th century and much of this style remains in place today.  After the Great Fire of London in which many London markets were wiped out, market traders began to trade in Covent Garden which led to its increase in popularity with both locals and tourists.  The area is still popular today.
Shopping
Covent Garden is said to be the best place for shopping in the West End of London and only Oxford Street beats it in popularity.  At the heart of Covent Garden is an impressive shopping centre called Covent Garden Market Piazza.  This is two floors high and is home to a market, numerous restaurants and cafes and a variety of different shops.  You are sure to be able to hear classical street performers whilst inside the Piazza and don't go thinking that this is a usual shopping centre as it isn't.  The Covent Garden Market Piazza has a unique feel to it and the building it is housed in is hundreds of years old.  Aside from an awesome shopping experience (there are not just the usual names here like the Disney Store and upscale boutiques but also a number of random independent stores) visitors to the area can enjoy a quick bite to eat, a beer or even a spa if they like.
Street Performers
Mimes, puppet shows and orchestras can all be found entertaining the public in Covent Garden both inside the Piazza and outside in the square.  Quite often a crowd will gather around the performers and throw coins to them at the end of a performance.  A great place for children, your kids will be entertained with clowns making balloon figures, funny shadow men and Punch and Judy and you will struggle to pull them away to continue on with your shopping.
Nightlife
After the daytime crowds go home, Covent Garden turns into a sleek and stylish nightlife location with a number of cocktail bars and clubs opening their doors for their influential customers.  Drinks don't come cheap but it is always worth staying for a couple just for the experience.  There are more than a thousand places to eat and drink in the area after dusk so take your pick and watch as the celebrities roll in.