As you are probably already aware, football (or soccer) is huge in England, and the English Premier League is one of the strongest and most competitive leagues in the world.  London is home to five or six Premiership clubs (depending on whether West Ham and QPR are up or down in a given season), as well as Wembley stadium, where international matches featuring the England team are held as well as important cup finals.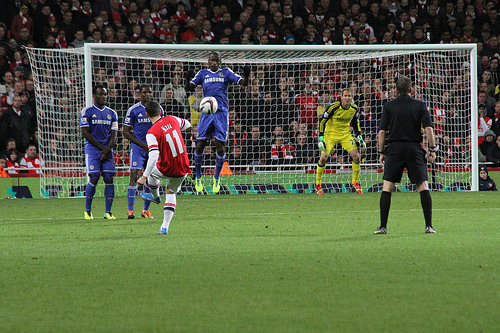 Sports fans visiting London should check out the schedules of the home teams to find out if getting tickets to a game will be possible.  Getting tickets for Premiership matches, particularly at Chelsea or Arsenal can be difficult, and they don't come cheap, but it is definitely worth going if you can to see some world class football and take in the atmosphere.  You may be looking at upwards of £50 for tickets to a good match, especially if you want good seats, and even more if you don't get them through official channels.
If you happen to be visiting when England are playing, try and score some tickets for Wembley for an unforgettable day out at one of football's most iconic venues.  Just don't necessarily expect England to actually win.
You can also arrange tours of the stadiums when it isn't a match day.  Arsenal's new Emirates Stadium is one of the most modern and impressive in the world, and with a tour you get to see not only where the games are played but also some behind the scenes stuff and some great memorabilia.  Each stadium is also equipped with a megastore where you can buy all kinds of branded clothing and gifts for the team you choose, so you may choose to go and take a look around even without an actual tour or match to go to.  This is certainly the cheapest option and you can still end up with a great feel for the place and some good photos and souvenirs.
The roads outside the stadiums are usually closed by police on match days, and parking is very limited so fans generally travel to matches via public transport and then on foot.  You can also enjoy the colourful post game atmosphere in bars and pubs near the stadiums, though be aware that although football hooliganism has pretty much died out, fans are very passionate about their teams and you definitely don't want to insult anybody!
Have a look at the website for Chelsea, Arsenal, Tottenham, Fulham or Wembley for more details on the facilities at the stadium, how to arrange tours and how to get match tickets – it varies depending on the team or stadium you are interested in.
London is a great sporting city and football is the most popular sport, however fans of other sports like cricket, rugby and tennis will also find iconic sporting venues to visit (Lords, Twickenham and Wimbledon, for example), and with London being the home of the 2012 Olympics even more world class sports venues are becoming established.