It should come as no surprise that Maeshowe, Scotland draws in the history buffs each and every year as it is home to the Maeshowe Chambered Cairn, which has been dubbed one of the best chambered tombs in all of Europe. The ancient site is able to transport visitors to another time and place, and thanks to the serene stillness of its surroundings, it really makes an imprint on people.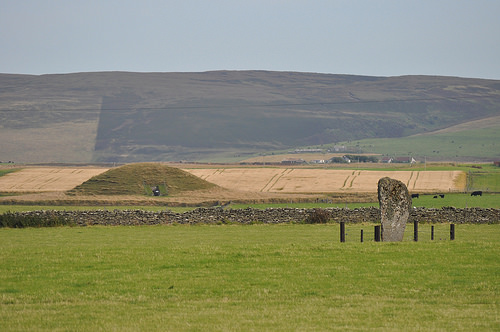 For those who aren't familiar with this absolutely awe-inspiring tomb that is thought to have been built around 5,000 years ago, there is plenty to be discovered here. Let's take a look at everything you need to know if you're planning a trip to Maeshowe.
What Is It?
Maeshowe is a chambered tomb, and as mentioned, it is often referred to as the best of its kind in all of Europe. This Neolithic building can be found in Stenness, Scotland and draws tourists from all around the world.
The structure itself is massive thanks to the oversized stones that were used. This factor alone acts as a point of interest as historians and visitors alike marvel at just how the ancestors were able to build such an impressive monument. Without the help of machinery and today's modern power tools, it's almost impossible to comprehend how it would have been possible, just how many people it would have been involved, and how long the build would have taken.
It's the Inside that Impresses People
When you first arrive, it doesn't look like much, in fact, it looks like a grassy mound of dirt. You may even look right past it if you don't already know what to look for. It's not until you step inside that you are able to grasp just how incredible the structure is.
The chamber is made up of a long passageway that leads to the main chamber made of stone. There is almost no light that is able to penetrate the chamber and it can feel as though you have transported into another world.
What makes the area even more intriguing is that it is surrounded by stone circles, burial monuments, and villages, so one can only imagine the hustle and bustle that once took place there.
It was Closed for Many Years
While there is still plenty to learn about Maeshowe and its history, it is clear that after using it for a few hundred years, it was closed up for some reason. It stayed in this state for approximately 3,000 years when it was finally opened up once again and explored by Norsemen. The Norsemen left their own mark with all kinds of carvings on the wall, which only adds to the intrigue of the site.
Plan Your Visit Accordingly
While you may want to add this to your list of sites to visit while in Scotland, it's important to note that visits are available by guided tour only. The hours vary depending on what time of year you visit, and the tours book up rather far in advance. It is advised that you book your tour in advance online, so you secure a spot.
Maeshowe, Scotland truly offers visitors a chance to get a glimpse of history.