For those families with a sense of adventure and fun who are always on the look-out for the next experience, BeWILDerwood may be exactly what you're looking for. Located in Norfolk, BeWILDerwood is an adventure park like no other, featuring all kinds of unique characters, attractions, and experiences, much of which is outdoors.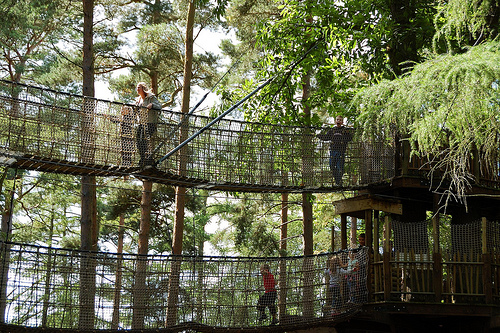 The Adventure, Mystique, and Magic of BeWILDerwood
When it comes to finding the best words to describe BeWILDerwood, things such as adventure, magic, and mystique pop into mind. The adventure park is themed around the forest, so all the activities have some element of nature and the woods in them. The park is based on the popular book series – BeWILDerwood – so kids will be able to spot all their favourite characters from the series. The series is written by local author Tom Blofeld, and manages to appeal to a wide age range.
This park is all about encouraging your child's imagination, which is evident the minute you step through the gates. The setting is straight from the book "A Boggle at BeWILDerwood". Many of the activities have a story-telling quality to them, so kids can feel as though they are part of the book.
While the park itself states that it is meant for kids ages two through 12, there really is no age limit as there are plenty of activities meant to keep all ages entertained.
A Glimpse at the Activities
As outlined, this park is filled with outdoor adventures. You and the kids can take part in zip-lining, exploring various treehouses, crossing jungle bridges, marsh walks, and even a boat cruise along the river. Unlike in some parks, here kids are encouraged to touch, explore, play, and ask questions. The idea is to enrich their experience in any way possible.
If you are planning to make a full day of your visit, then you'll want to take advantage of the various places to grab a bite to eat. There are three different food stops on the grounds, which provide a variety of snacks and meal items. If you'd rather, you can always bring your own picnic lunch and snacks.
When to Visit
BeWILDerwood is a seasonal park, which means it is open from February until October. Within that time period, the park is open daily from the end of March until the end of September. Because it is all outdoors, the park does close at dusk. Pricing is based on height, and there are discounts for those over the age of 65 years. If you book your tickets online in advance, you will be able to save money.
For those who think they may want to return more than once, the BeWILDness passes are usually the best idea, as they give you unlimited visits for one year from the date of activation on the first visit.
Get Out and Enjoy Family Fun Time
So, if you're looking for a place to take the kids during summer holidays and are tired of visiting the same old spots, BeWILDerwood is definitely worth considering.