Attractions in London, England
While you are in London you should take in and enjoy one of the many of sightseeing tours and associated activities in London and the surrounding area. There are numerous tours including the Paris Tour. Tours are by far the best way to see the many sights in London, and there are a numerous options of transportation offered including the traditional double decker buses that the locals take every day for play and work.
You should also not miss the Windsor Castle, the Crown Jewels, and the Changing of the guard. If you have a few extra days, be sure to see Oxford, Strarford-Upon-Avon, the Cotswolds and Bath and Stonehenge.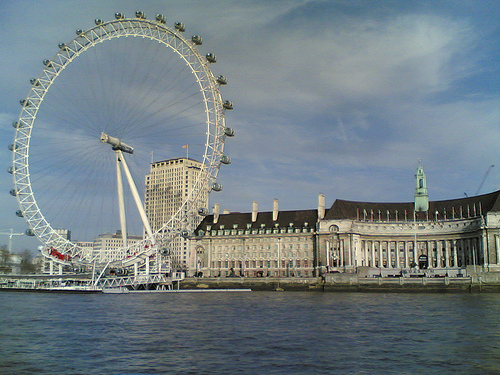 Diner shows and Dinner cruises are also very popular activities in London. See the Medieval Banquet in London for an entertaining evening with fire eaters and jesters. The infamous Jack the Ripper Tour is also a favorite with many.
The Horse Guard Parade and the changing of the Guard at Buckingham Palace are free displays of colorful Royal pageantry. In September and August Buckingham Palace itself is open to visitors. Take a look at the clock tower that houses the famous Big Ben and the Houses of Parliament.  Other London sights that you must see include the Madame Tussauds, Princess Diana's memorial, the British Museum, the nearby Tower of London with its colorful Beefeaters, and London Bridge. Of course, you simply must ride on the London Eye, London's latest landmark. London is also home to some of the world's finest parks. Should you have enough time, pay a visit to Kew Garden and Hamstead Health and you will feel some peacefulness in the middle of a very busy city.
London is simply brimming with exciting things to do and see. Explore the Tate Modern, soak up the historical sights of the Tower of London and St. Paul's Cathedral, or enjoy the stunning views from the London Eye, explore the amazing collections in museums, such as the Natural History Museum. You also have the option of taking in the history of the city at Westminster Abbey as you experience the past, present and future of this fantastic city.
In London you can experience thousands of years of royal history such as Windsor Castle, St. Paul's Cathedral, and London Tower Bridge. You can also visit top Museums, such as the British at War Experience and the Churchill Museum, enjoy popular attractions such as Shakespeare's Globe Theater, HMS Belfast, and London Zoo or take a Thames River Cruise.