Join the Fun for Three Full Days – MCM London Comic Con
Thinking of a quick jaunt to London late spring as the weather turns nicer? Why not make it a fun-filled weekend at MCM London Comic Con? Comic and anime aficionados will be flocking there in the droves so this is the time to let it all out and join other like-minded people as you walk through display after display of the latest in comic books, sci-fi, fantasy and maybe even get in a bit of cosplay. This year's spring Comic Con is to be held on 22 – 24 May, 2015 so mark those dates in your calendar and get set for the time of your life.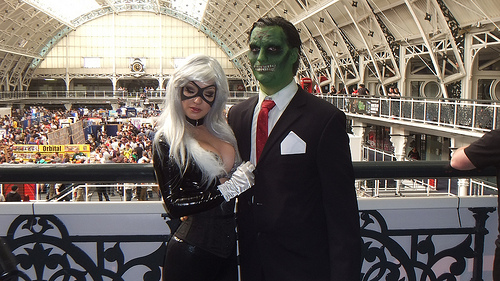 Never Been to Comic Con?
For those who have never had the pleasure of experiencing Comic Con, you are in for a special treat. What started out in San Diego in 1970 as a comic book convention with a smattering of sci-fi has literally exploded into a major worldwide pop culture event. Now there are Comic Con expos all over the world, but few promise to be as exciting as this year's show in London. You only need to take a look at the list of attractions to see why this is billed as the UK's leading pop culture event.
What to Do? Here Are a Few Suggestions (For Starters!)
MCM Theatre – This is where you'll find all the guest talks, masquerades and presentations. There is no extra charge for this so make a list of your favourites so you can wander the expo in between.
Totally Cosplay – There is a Totally Cosplay section where those into role play and costuming can wander about sharing their artistry whilst experiencing the wonderful costumes of others. This area is also where the Cosplay Masquerade will be held.
MCM Fringe Festival – Ready for a bit of time outdoors? There are a great number of activities planned on the outside for those looking for a bit of open space after bumping shoulders inside the convention hall.
Steam Punk – Yes, you got it. This is where punk of the past is carried forth into the future.
MCM eSports – Those gamers and cyber role players out there are certain to hit this display and learn the latest and best in tournaments for online gaming.
MCM Party – The highlight of the weekend for many. Held on the Saturday evening of the MCM London Comic Con, attendees mingle, dance, and have a bit of fun with their own cosplay if they want, and of course, eat, drink and be merry.
MCM Comic Con Guests – This year's guests include some top names in the industry like John Noble, Felicia Day and Mark Meer.
Memorabilia Stalls – You won't want to go home without the latest in memorabilia so don't forget to browse the stalls. Bring home gifts for friends who couldn't attend.
Unless you have ever been to a Comic Con, get ready for the thrill of a lifetime. In fact, you may have such a great time that you'll be longing for next year's event. Why wait? If you haven't had your fill in May, there is a second annual event in October. Mark down this date right now, 22 – 24 May. Book early, plan your cosplay and get set for an adventure you'll not soon forget.