Trafalgar Square is famous for the huge number of pigeons that flock there. The centerpiece of Trafalgar Square is Nelsons Column which was built to honor Lord Nelson after his victory over the French during The Battle of Trafalgar on the 21st of October in 1805. During the famous battle which took place off the Spanish coast Nelson was fatally wounded. His body was taken back to London and buried in the St. Paul's Cathedral. Over 20 years later the statue was built and currently stands over 185 feet high. The National Gallery also resides in Trafalgar Square. Priceless works of arts by artists of every major European school are on display at this distinguished institution.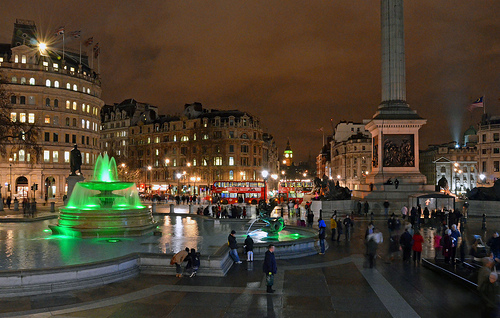 The Prince Regent, who later became King George IV, asked architect John Nash to redevelop the area in 1812. Although he died before his plans came to fruition, Nash had the terrain cleared. Between 1840 and 1845, Architect Sir Charles Barry, better known for Landseer Lion his Houses of Parliament, the new design for the large square was finally implemented.
The Corinthian column is approximately 170 ft. (52 m) tall, including the base. It was built in 1842 and was designed by William Railton, who was chosen from a selection of 124 competition entries. An 18ft tall statue of Lord Nelson stands on top of the column which was designed by Edmund Hodges. There are four large lions which were designed by Sir Edwin Landseer and were added to the base of the column in 1868.
There are two fountains contained in Trafalgar Square, by Sir Edwin Lutyens, which were added in 1939, as well as a large number of statues. Numerous great buildings surround the square. On the north side is the neoclassical National Gallery stands on the north side and was built between 1834 and 1838. It houses a collection of more than 2300 paintings, including work from Claude Monet, Leonardo da Vinci, Renoir, and Van Gogh. The square is bordered on the east side by the Canada House which was completed in 1827. The South Africa House, opened in 1933, is opposite the Canada House.
The St. Martin in the Fields parish church sits of at the north east corner. The church was built by James Gibbs in 1721, has a large white steeple, and was used as an example for numerous churches, particularly in the U.S. It was the first built in the 13th century and is the fourth church at this site.
In 2003, the north side of the square was redeveloped. The area around the front of the National Gallery was redesigned to accommodate pedestrians and a flight of stairs now reaches the museum. This change represents a great improvement from the past when, in order to get to the museum, people had to cross a busy road.