St. Martin-in-the-Fields parish church sits on the north east corner of Trafalgar Square. The church has large white steeple which was built in 1721 by James Gibbs, and was used as an example for numerous churches, particularly in the U.S. It was the first church built in the 13th century and is the fourth church on this site.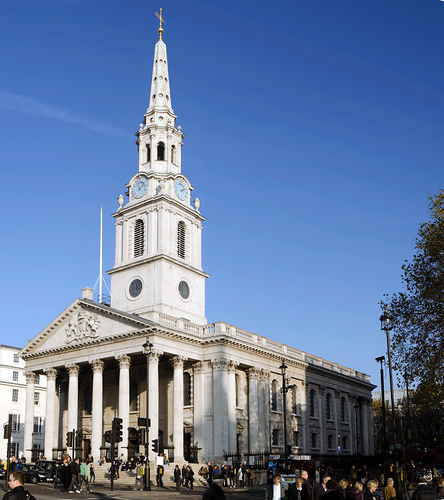 The church managed to survive the Great Fire of London, which did not reach as far as the City of Westminster. Never the less it was replaced with a new building which was designed by James Gibbs in 1721 and was completed five years later. The design was widely criticized at the time but subsequently became very famous. The church is essentially rectangular, with Classical style and is supported by large Corinthian columns. The tall steeple is topped with a gilt crown…
Soon after being built, numerous 18th century noblemen were buried in the new church, including Thomas Chippendale, the famous furniture maker. Jack Sheppard is also buried in the adjoining churchyard.
The church also had its own Pension Charity, which was established in 1886, and Almshouses. It had 19 trustees who administered Almshouses for women and provided them with a weekly allowance. In 1818 the almshouses were built on a part of the parish burial ground in St. Pancras and Camden Town but were replaced in 1683 with new ones. The church has also has a very close relationship with the Admiralty and the Royal Family, who belong to the parish.
St. Martin-in-the-Fields is the most famous of all non cathedral churches in London because of its prominent position. Its ethos as the Church of the Ever Open Door in the early 20th Century continues today, even though it is not possible for that to literally to be the case. It is famous for its work with the homeless though. The church is known for its regular lunchtime and evening concerts. Numerous ensembles perform there, including the Academy of St Martin-in-the-Fields which was co-founded by John Churchill and Sir Neville Marriner, then the Master of Music at St Martin's. In the Crypt there is a popular Café, where jazz concerts are held. All profits from this go to the work of the church. The crypt is also home to the London Brass Rubbing Center, which is a gift and book shop and art gallery.
A £36 million renovation project was begun project in January 2006. The project includes renewing and cleaning of the church and the provision of social care, parish, music, and visitors, which not only encompass the church's crypt and a row of buildings to the north including some significant new underground spaces. The crypt and church have now reopened, since the work was completed in 2008. As part of the public fundraising, it is possible to sponsor a pane of glass and Give light to St Martin's'.